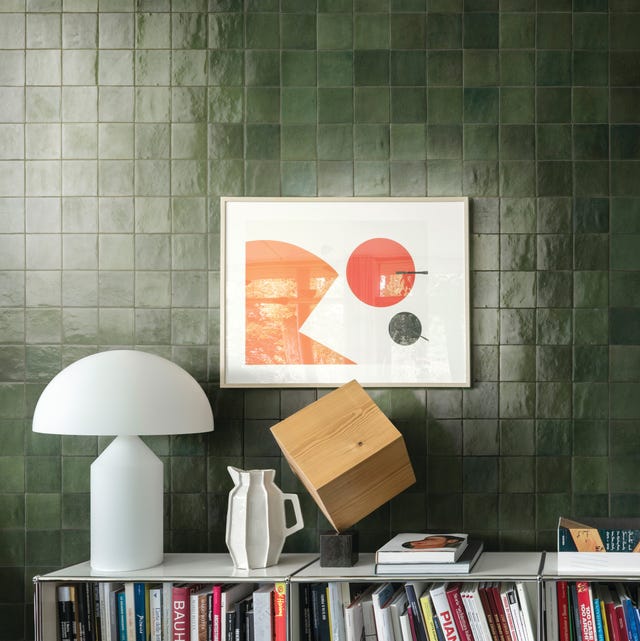 homedepot
New tile can instantly transform a bathroom floor, kitchen backsplash or exterior wall, and there's no shortage of options. Indeed, tile comes in countless shapes, sizes, materials and colors. Ceramic, porcelain, cement, granite and glass are just a few tile materials on the market today. Each tile has a unique aesthetic: Subway tile, for example, lends itself well to a kitchen, while rock pebble tile gives a bathroom a spa-like atmosphere.
"Tile has so many benefits, including ease-of-cleaning and resistance to stains and moisture," says Dan DiClerico, director of the Good Housekeeping Institute Home Improvement and Outdoor Lab. "But design versatility might be its biggest upside, since there are so many styles to choose from."
Some consumers might find the endless selection overwhelming. But don't fret — we're here to help you hone your search. Our market analysts and product experts evaluated the best places to purchase tile based on selection, prices, quality, shipping, return policies and more. Here are the best retailers to buy tile for the kitchen, bathroom and beyond.
Advertisement – Continue Reading Below
Best Overall Tile Retailer: Ann Sacks
This Portland, Oregon–based company sells ceramic, glass, porcelain, mosaic, concrete, stone, terra cotta and specialty tile. Shoppers can receive in-person consultations at any of the retailer's more than 20 U.S. showrooms; the company also has seven international stores, including locations in Toronto, London and Dubai. Our experts tapped Ann Sacks as the best overall tile retailer because it offers so many affordable tile options with high-end looks, including chic designs for as low as $4 per square foot. The retailer introduced 11 new tile collections this year, including its MADE Apex line that features 14 artisan glazes and a porcelain collection of neutral tones.
• Price range: $4 to $20 per square foot
• Number of locations: 20
Best Budget Tile Retailer: Home Depot
The largest home improvement retailer in the nation has an incredibly diverse selection of tile products to choose from at a wide range of prices, including many exceptional deals. "It's really a one-stop shop for tile, providing design consultations, in-home measurements and professional installation," says DiClerico. With about 2,300 stores in North America, the Home Depot offers seven main tile materials: ceramic, porcelain, natural stone, glass, mosaic, metal and cement in a variety of finishes, such as glossy, matte and polished.
• Price range: $1 to $15 per square foot
• Number of locations: 2,300
Best Luxury Tile Retailer: Artistic Tile
The family-owned Artistic Tile offers glass, stone, porcelain and ceramic tile. Tailored to the luxury market, the company has nine showrooms across the United States, plus one slab gallery in New Jersey. It prides itself on providing customers a full-service experience that includes customization from Artistic Tile designers. Our sustainability experts call out one other selling point for eco-conscious shoppers: The company's 125,000-square-foot headquarters generates 85% of its annual power through solar energy.
• Price range: $6 to $300 per square foot
• Number of locations: 10 showrooms, plus dozens of authorized dealers nationwide
Best Online Tile Retailer: The Builder Depot
The Builder Depot touts its standing as the first Google Trusted E-Commerce supplier. The retailer has all tile on hand at its warehouse (as opposed to using third-party suppliers), and reps will even send a picture of the tile you request before putting through your order. Our experts' review of the site confirms that you'll also find an exceptional array of tiles, including porcelain, glass, marble, cement and more. The Atlanta-based retailer sells products from 18 brands, such as Sheffield Steel, Highland Park, Bianco Carrara and BrickStone. Shoppers can find glass tiles starting at $10 per square foot. The company, which ships products nationwide, is in the process of expanding its line of ceramic tile.
• Typical price range: $6 to $100+ per square foot
• Number of locations: Online only
Best Tile Showroom Experience: The Tile Shop
Headquartered in Plymouth, Minn., The Tile Shop sells marble, travertine, limestone, porcelain, ceramic, encaustic and wood tile. With more than 140 showroom locations nationwide, it's an accessible source of curated tiles from around the world. Customers can receive free one-on-one design consultations either in-store or remotely. Our shopping experts note that the company offers a generous 90-day return policy, although returns are not allowed for discontinued or special-order items. One caveat: The company does not provide professional installation.
• Price range: $2 to $120 per square foot
• Number of locations: 140+
Best Tile Design Consultancy: The Tile Bar
With all products created by in-house designers, the Tile Bar is an online retailer that manufactures and sells a broad selection of tile, including porcelain, ceramic, marble, stone, pebble, glass and pearl. Our market experts like that the company allows customers to order five samples for a total of $5 with free shipping. Its flagship showroom in Manhattan's Flatiron neighborhood provides design consultations by appointment. Shoppers can also receive free design consults by phone.
• Price range: $2 to $125 per square foot
• Number of locations: 1 showroom in New York City, plus online
Best Full-Service Tile Retailer: Lowe's
Lowe's offers in-home flooring measurements, design consults and professional installation. Customers can shop for tile in a wide range of prices, materials and styles, including ceramic, porcelain, natural stone and glass. This major chain retailer sells tile samples for $5 or less, with free shipping. The company operates nearly 2,200 home improvement and hardware stores in the United States and Canada. Its website has a nifty flooring visualizer tool that you can use to see how certain tile flooring will look in virtual bedrooms, bathrooms, kitchens, living rooms and dining rooms.
• Price range: $1 to $100 per square foot
• Number of locations: 2,200
Best Faux-Tile Retailer: Bath Planet
Acrylic surrounds are a quick and easy way to achieve the look of tile in a shower or full bath. Plus you won't have to worry about cleaning mildew-covered grout lines. Bath Planet, a Good Housekeeping Seal holder, gets high marks from our engineers for its nonporous acrylic composition, which they found to be mold-resistant and easy to clean. The company's Reveal lineup features six unique laser-engraved grout lines and an array of tile patterns, including honeycomb, Roman block and classic subway. Our experts also like the company's offer of free in-home consultations.
• Price range: Available through dealers
• Number of locations: 901 dealers nationwide
Best Carpet Tile Retailer: Flor
Specializing in producing carbon-neutral carpet tiles, Flor manufactures and sells durable options in modern styles. Its modular design offers flexibility and convenience by enabling you to swap out damaged tiles and reorganize squares when you're ready to give your flooring a fresh look. "Flor's carpet tiles are an excellent option for renters or homeowners who don't want to commit to a permanent flooring installation," says DiClerico.
The company sells more than 180 styles of carpet tiles, including animal print, geometric and graphic designs. It offers a 30-day return policy and a one-year warranty from the date of purchase for manufacturer's defects.
• Price range: $20 on average per 20-square-inch tile
• Number of locations: Online only
Best Retailer for Eco-Friendly Tiles: Livden
If your goal is design-forward tiles that are also good for the planet, look no further than Livden. The company was founded by Melinda Earl in a makeshift garage studio in 1994 and has since expanded to selling tile nationwide. Its products are made from upcycled materials, giving environmentally conscious customers a wide range of tile options, such as Terrazzo — a composite building material made by binding recycled materials like granite, glass or quartz with cement or epoxy.
Not sure what tile style is right for you? Take the company's fun style quiz.
• Price range: $69 to $77 per square foot
• Number of locations: Online only
Best Retailer for Variety of Tiles: Overstock.com
Overstock.com sells more than 5,000 tile products, with tile made from porcelain, plastic, ceramic, glass, marble, metal, stone, aluminum and slate. Many come with free shipping and fast delivery. Brands include Fasade, SomerTile, Art3d and Giorbello, among others. Looking for a deal? The online retailer frequently offers flash sales and limited-time coupons. As with most online retailers, you'll be making your purchase without firsthand examination, our experts caution. Also, the site does not offer design consultations or professional installation.
• Price range: $5 to $100 per square foot
• Number of locations: Online only
How we chose the best places to buy tile
Our home improvement and design experts have more than 40 years of combined experience covering the building materials space. Based on that expertise, they assembled a list of online and brick-and-mortar tile retailers with proven track records for quality, reliability and customer service.
In addition, our product testers have evaluated tiles over the years from many retailers included in this roundup. As part of our performance tests, technicians measure scratch resistance using an in-lab abrasion machine and stain resistance by applying various stains to the tiles, leaving them overnight and checking for signs of surface penetration. Our engineers also analyze technical data from manufacturers related to performance (e.g. porosity), safety (e.g. slip resistance) and sustainability (e.g. percentage of recycled content).
What to consider when shopping for tile
Tile is suitable for many surfaces in the home. To find the perfect match, it pays to be mindful of the material's various pros and cons.
✔️ Pros:
Tile is durable. Tile is relatively tough and hard to crack, making it resistant to dents, scratches and scuffs. Also, tile can last for 20 years or longer when installed properly, making it a good choice for high-traffic areas.
Tile is low maintenance. Most messes can be cleaned up with ease. That's one reason why it's an excellent choice in bathrooms.
Tile is water and fade resistant. Tile is less likely to fade from sun exposure and more water-resistant than hardwood flooring. Consider it for bathrooms, kitchens and rooms that get a lot of natural light.
✔️ Cons:
Tile can be pricey. This is especially true with flooring. While tile floors are typically less expensive than natural hardwood, they're usually pricier than laminate or vinyl. For walls, choosing simple ceramic tile can keep costs in check.
Tile is difficult to repair. Though it's durable, when tile does crack or chip, it often needs to be replaced. So it's not ideal for countertops in a busy kitchen; save it for the backsplash, which is handled less often.
Tile can be hard to self-install. Tile installation can be challenging for the typical homeowner to do on their own, since it requires getting the layout just right, cutting the tiles with a wet saw or other specialty tool and setting them in mortar. Peel-and-stick wallpaper with a tile pattern and peel-and-stick floor tiles are good DIY solutions, especially for budget remodelers.
What's the difference between ceramic and porcelain?
Ceramic and porcelain are two of the most popular tile materials, but their qualities differ. Ceramic is typically made from a mixture of water and sand, making it softer than porcelain. Because porcelain is made from a finer, denser clay and fired at a higher temperature, it's naturally harder and less porous. As a result, porcelain is ideal in and around showers, sinks and other wet locations. In addition, says DiClerico, "porcelain tile is particularly scratch-resistant, making it a great option for flooring."
Why trust Good Housekeeping?
Daniel Bortz has been covering the home improvement space for more than 1o years. To choose these tile retailers, he worked with Dan DiClerico, director of the Good Housekeeping Institute Home Improvement and Outdoor Lab. Dan brings more than 20 years of experience, having reviewed thousands of products for Good Housekeeping, as well as brands like This Old House and Consumer Reports. For good measure, Dan also spent countless hours researching tiles for the renovation of his home — simple subway tiles for the shower walls and a hexagonal mosaic for the floors.
Bortz also worked with Monique Valeris, senior home editor, who oversees Good Housekeeping's home decorating coverage across print and digital. Previously, Monique was the digital editor at ELLE Decor. In her current role, she explores everything from design trends and home tours to lifestyle product recommendations.
This content is created and maintained by a third party, and imported onto this page to help users provide their email addresses. You may be able to find more information about this and similar content at piano.io
Advertisement – Continue Reading Below