Our beamed ceiling ideas explore how these architectural ceiling elements are not just part of the structural design and construction of your home, but can bring in beautiful visual interest, texture and uniqueness to your space.
Historically constructed from timber, ceiling beams have been used for centuries in building design to support the weight of floors and roofs. Over time, these functional features have developed not only in their engineering, but in their style, impact and aesthetic for ceiling ideas in the home. 
Whether you want to celebrate the history and natural beauty of original wooden beams for wood ceiling ideas, or uplift them with colorful paint, our beamed ceiling ideas explore a range of creative options for interiors both classic and contemporary.
Beamed ceiling ideas
With so many styles, materials and options to choose from for beamed ceiling ideas, we have gathered an inspiring collection of different looks to help you with the existing beams or upcoming beamed design in your home. 
1. Embrace a cozy, rustic style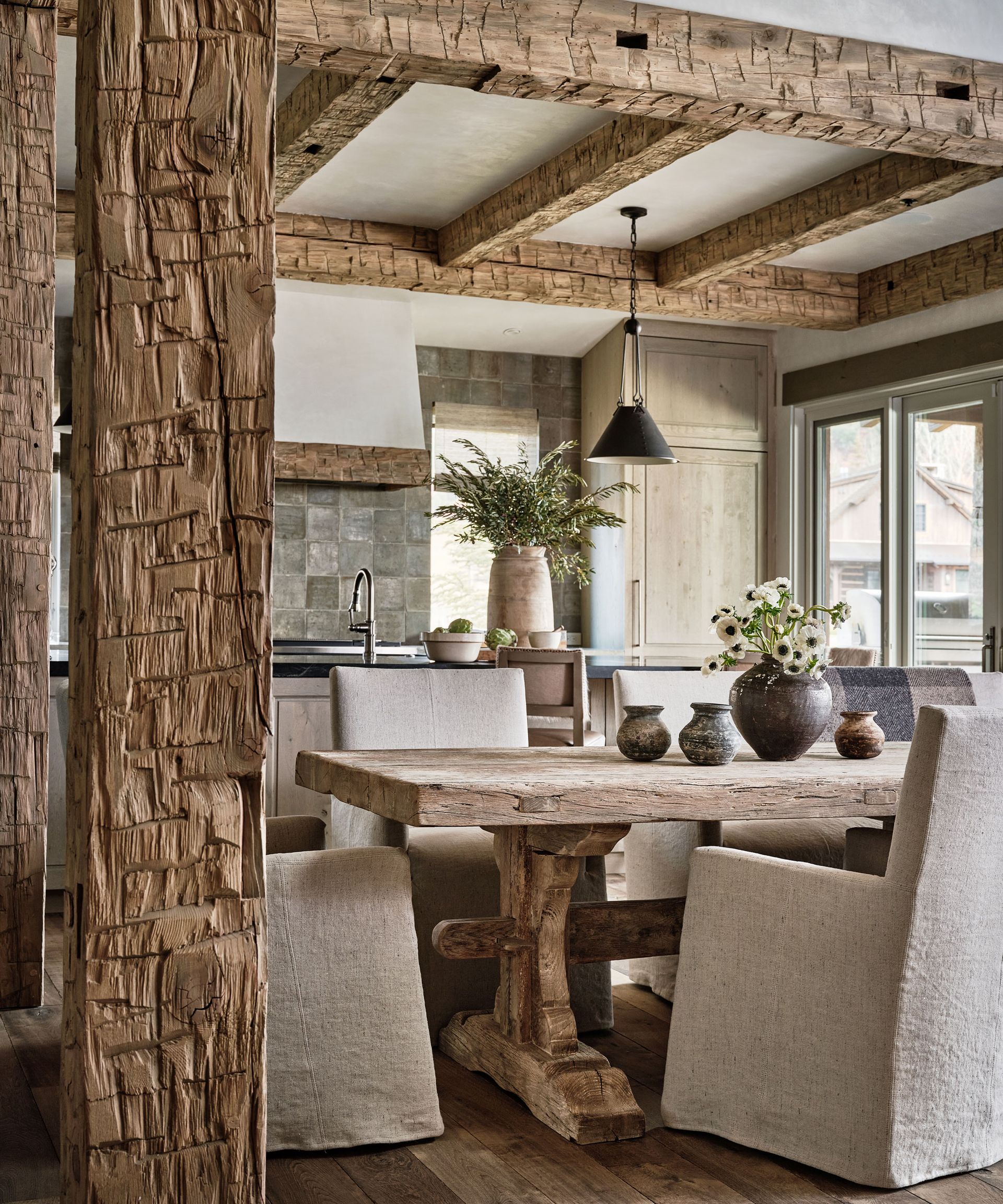 When many of us think of beamed ceiling ideas we are drawn to a dark, rustic wood that represents a historic style with heaps of character. 
Whether you celebrate the original bones of your home, or choose reclaimed timber for a new build or room refresh, a rustic, distressed style of ceiling beam can create an inviting, cozy and more traditional look. 
Louise Wicksteed, design director at Sims Hilditch (opens in new tab) states, 'if you are working with an old property that has plenty of visible beams, you might consider leaving these on show. This creates a wonderful sense of history within the space, injecting plenty of character into the ceiling.' 
In this beautiful kitchen-diner by Kara Childress (opens in new tab), the aged timber beams and pillars are complemented by a calming, natural color palette and other wood finishes and features in the space. Establishing a cozy, calming and organic atmosphere, the design allows for the historic wooden construction to take center stage, paying homage to the timeless beauty and strength of working with wood in interior design.
2. Unite contrasting styles and finishes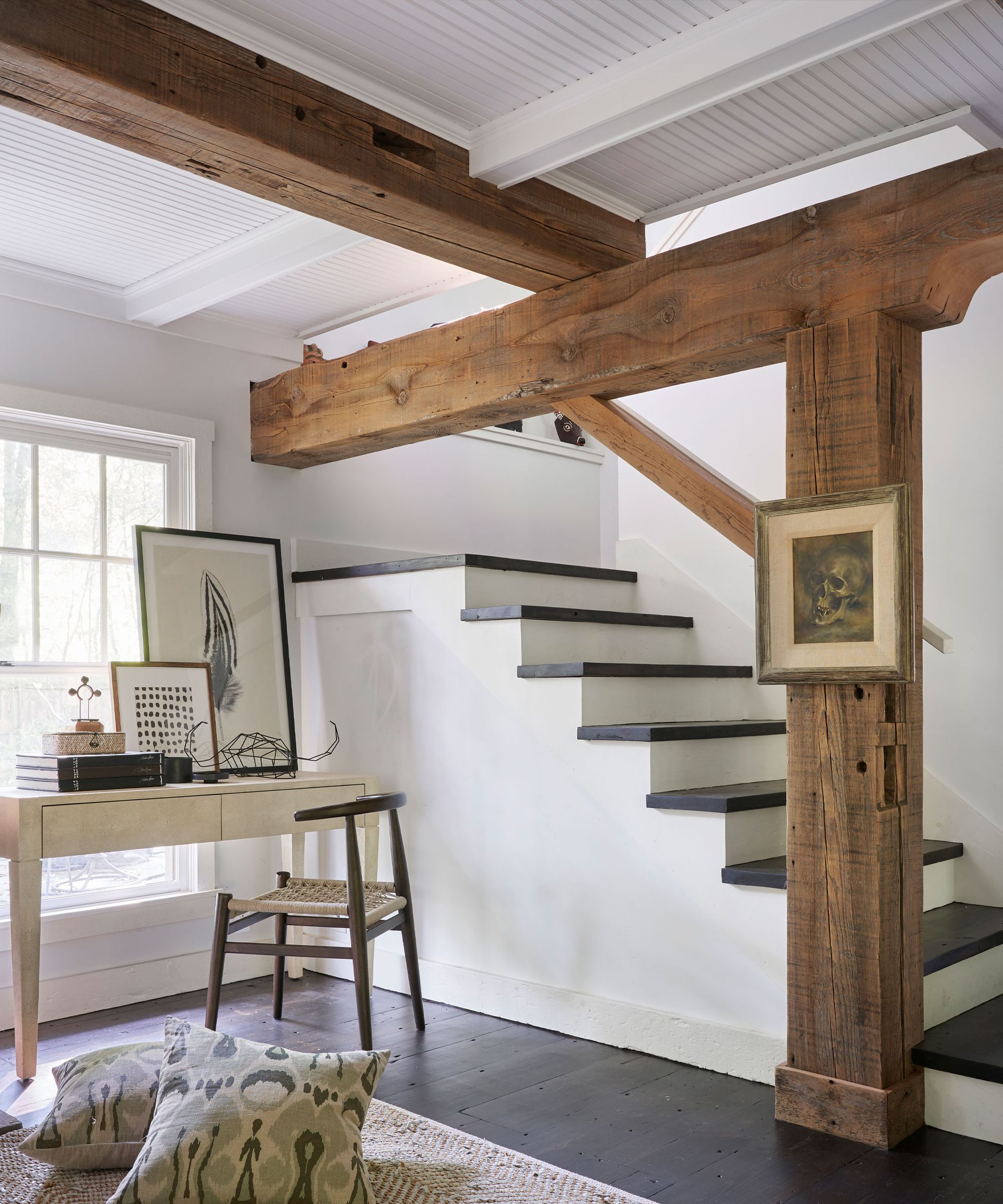 Of course, over time, the design and style of ceiling beams has rapidly changed and adapted, meaning that you can create diverse and more unique looks with a mix of styles and finishes. 
With many faux beam options available for modern homes, as well as the use of paint and color to enhance traditional wooden designs, there are many creative options to choose from. 
This inviting basement office by Elizabeth Krueger Design (opens in new tab), unites the warmth of traditional wooden beams and pillars with more contemporary white wooden ceiling beams and ceiling paneling.
A minimalist design that still feels rich with texture and character, the traditional wooden framework helps to create a cozy and classic look, with the white painted ceiling beams and paneling making the basement feel more light and bright. This design unites contrasting finishes and ceiling ideas to create an elegant, layered look that feels timeless and sophisticated.
3. Don't be afraid to use color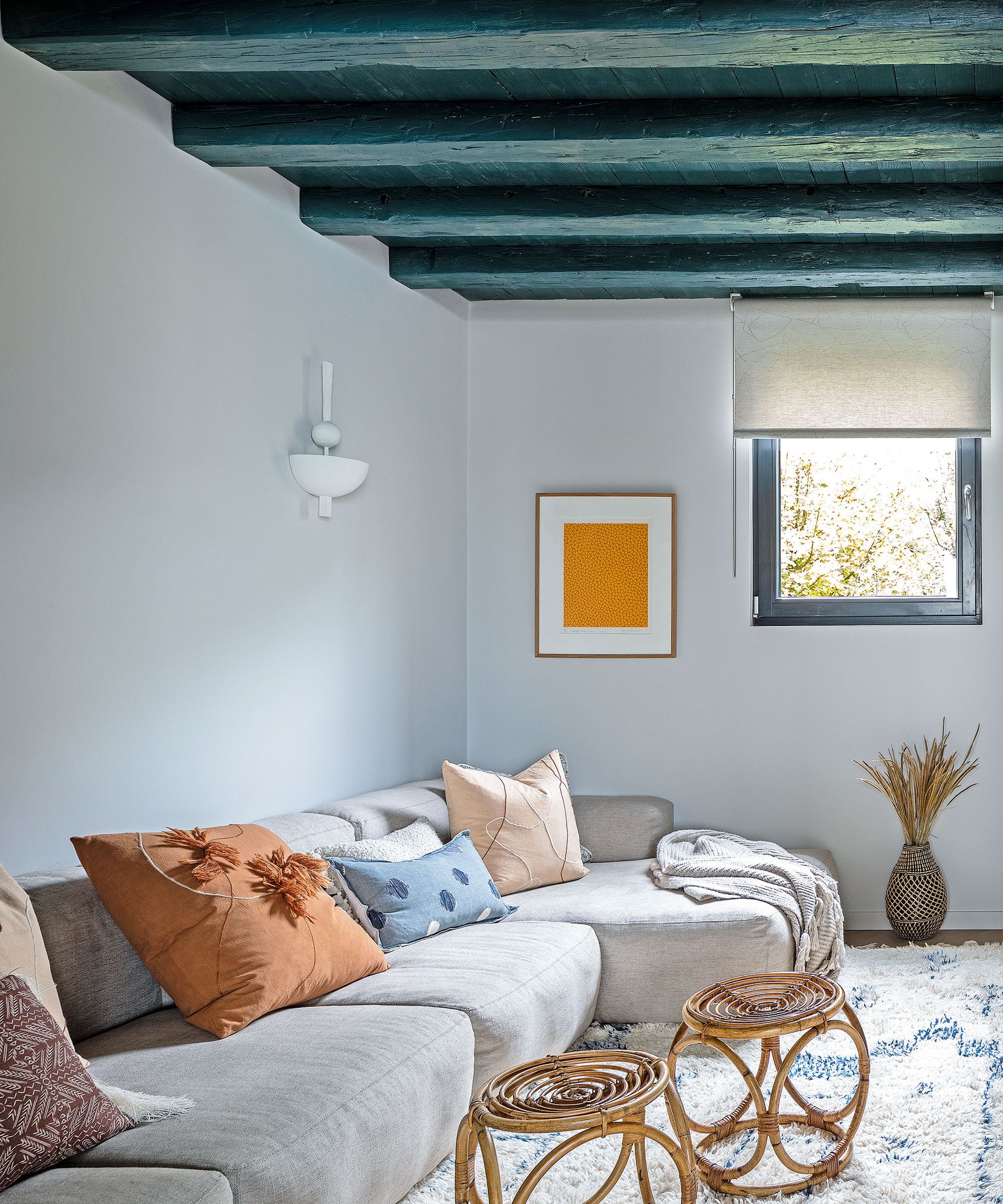 Colorful room ideas can make a space feel truly connected to your style and identity, as well as help to make a room feel more uplifting, bright and cheerful. 
'For a more contemporary and dynamic look for your beamed ceiling ideas, why not give them a lick of paint in a colorful shade for an unexpected and innovative twist,' says Homes & Gardens' editor in chief Lucy Searle.
In this home by Katie McCrum Studio (opens in new tab), the reclaimed wood planks, installed by Crafted Cabinetry (opens in new tab), have been painted in a deep shade of Harley Green by Little Greene. (opens in new tab) Painted to recreate a green ceiling from a Parisian apartment the client once lived in and loved, this use of color on the rustic wooden ceiling beams creates a bold and beautiful living room design.
4. Add delicate, decorative details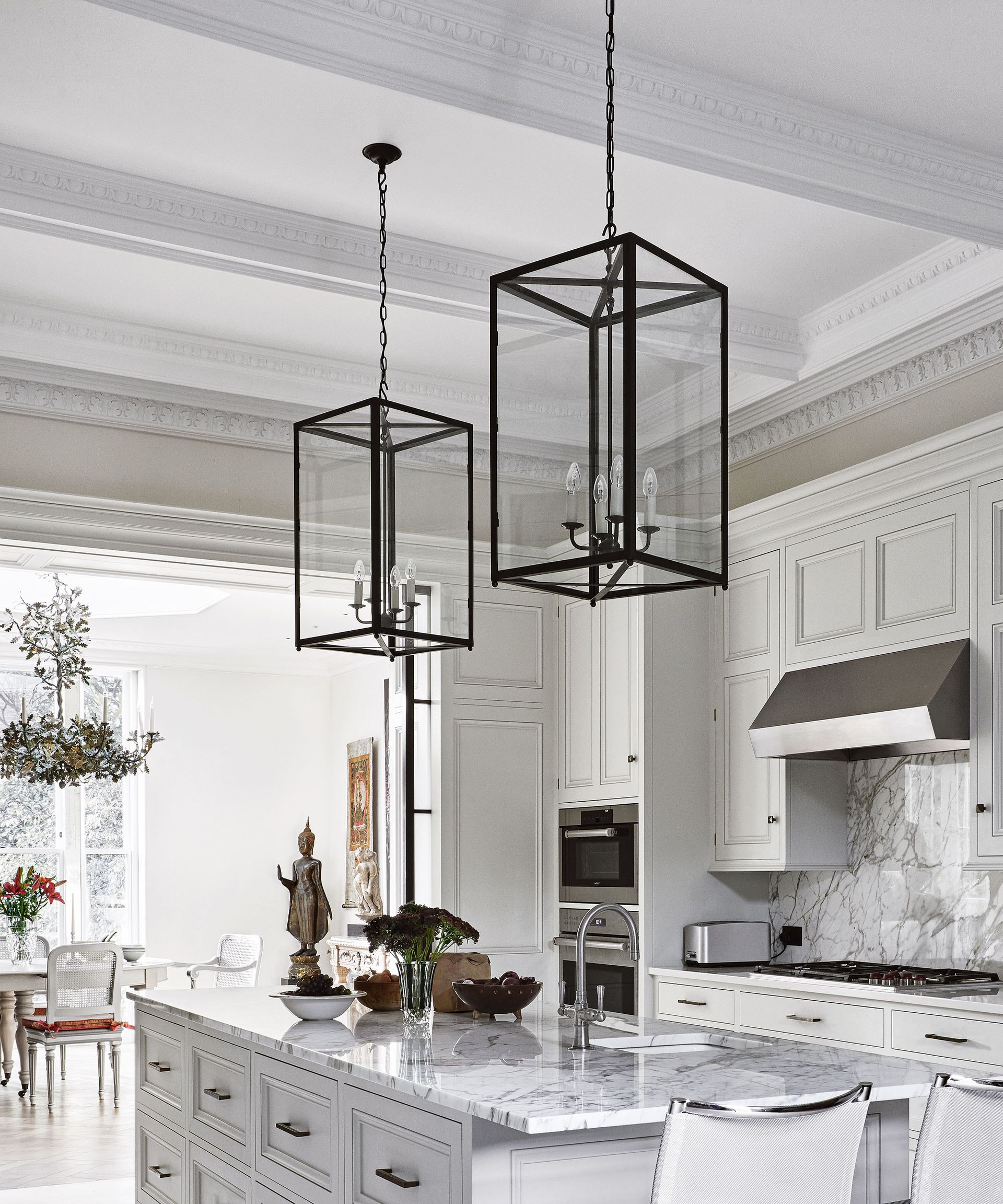 In this elegant white kitchen, the white painted ceiling beams have been finished with intricate, artistic patterns and detailing, mirroring the decorative designs found on the traditional ceiling trims.
Ceilings were once adorned with decorative plasterwork, coving and moldings, with these architectural elements becoming a key feature of Victorian interior design; used to emphasize a rooms grandeur and importance. 
Incorporating classic detailing such as this on your ceiling beams can add a beautiful detail to your ceiling that celebrates techniques and styles of the past.
5. Use lighting to create an elegant contrast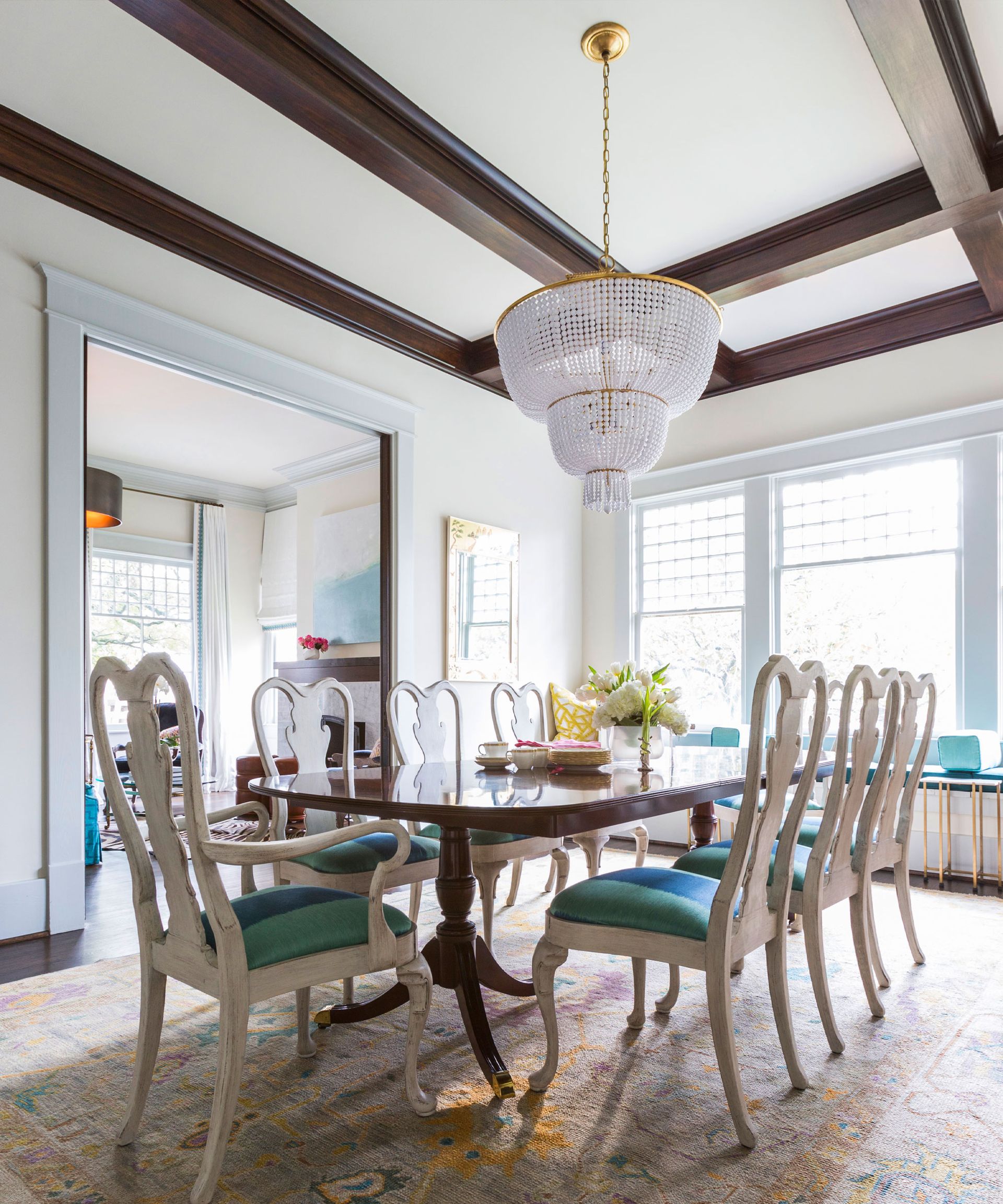 From statement chandeliers to sculptural, modern LED installations, using your lighting ideas to create an elegant contrast with your ceiling beams can make for an eye-catching mix of materials and a stylish juxtaposition.
As shown in this traditional dining room by Creative Tonic Design (opens in new tab), the glistening, beaded chandelier hangs beautifully over the large dining table, and establishes a diverse difference with the dark wood used for the coffered ceiling beams.
A beautiful mix of luxurious materials, there are many practical lighting options to choose from for your beamed ceiling ideas, such as spotlights and track systems, however, more dramatic and decorative lighting designs such as above can create a stylish and elegant contrast full of character.
6. Create a calming, neutral effect with limewash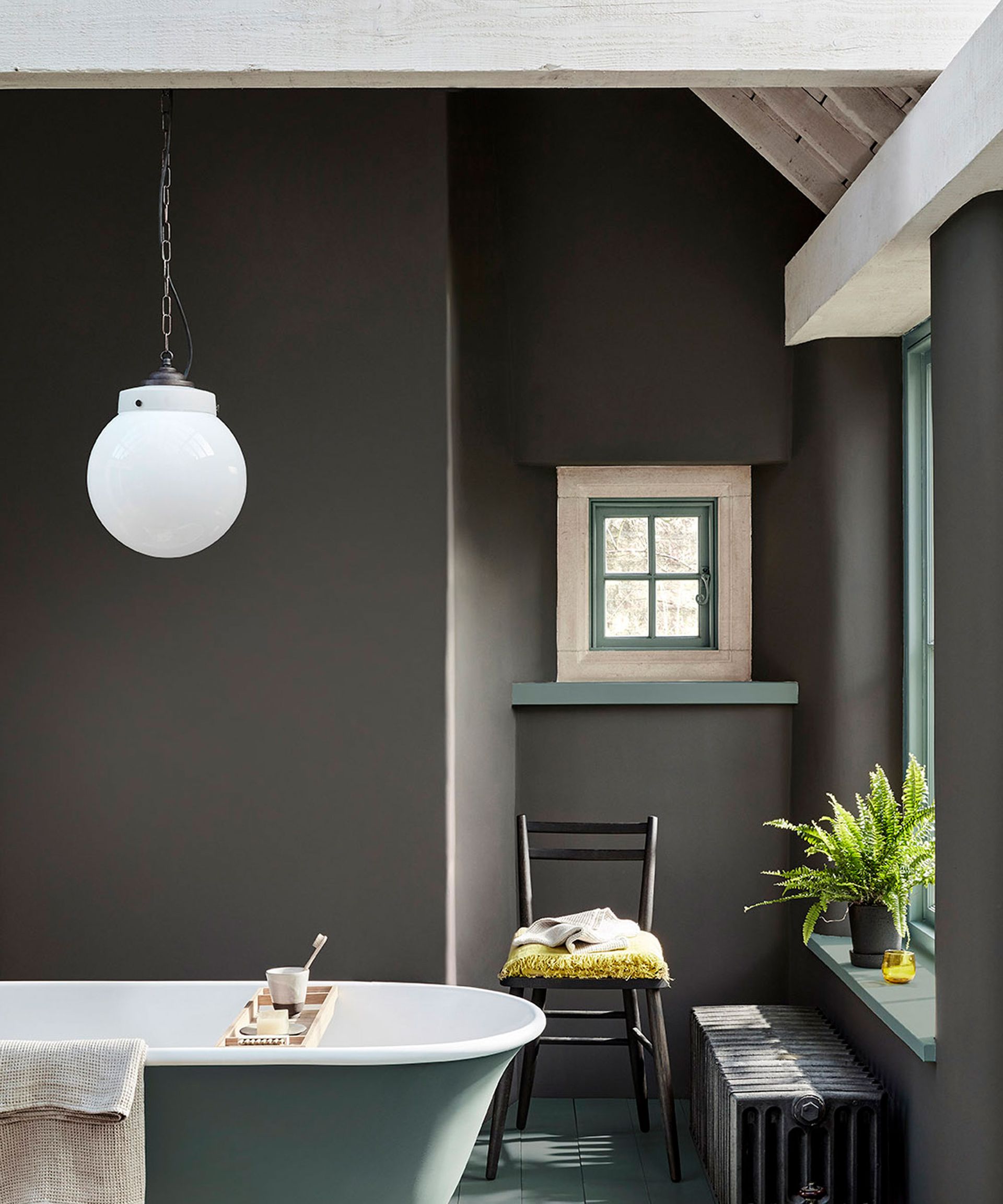 If you are considering ways to use limewash at home, using this matte style paint on your ceiling beams can create a rustic, natural effect but with a slightly more contemporary feel.
To uplift your darker wood ceiling beams so they are lighter and brighter, limewash, or whitewashing paint, can transform the look and color of the wood, but the natural grain and texture of the wood is still visible as the paint sinks into the material rather than creating a smooth, surface finish. 
As shown for this colorful, contemporary design in a traditional bathroom space, the beams have been washed in a light color to coordinate with the more modern color palette and bathroom design. 
A great technique to use for beams in smaller rooms or spaces with low ceilings, or to create a more calming, coastal decor feel, limewash paint is perfect for rejuvenating your ceiling beams whilst keeping the character and rustic charm still intact.
7. Channel industrial chic with exposed steel beams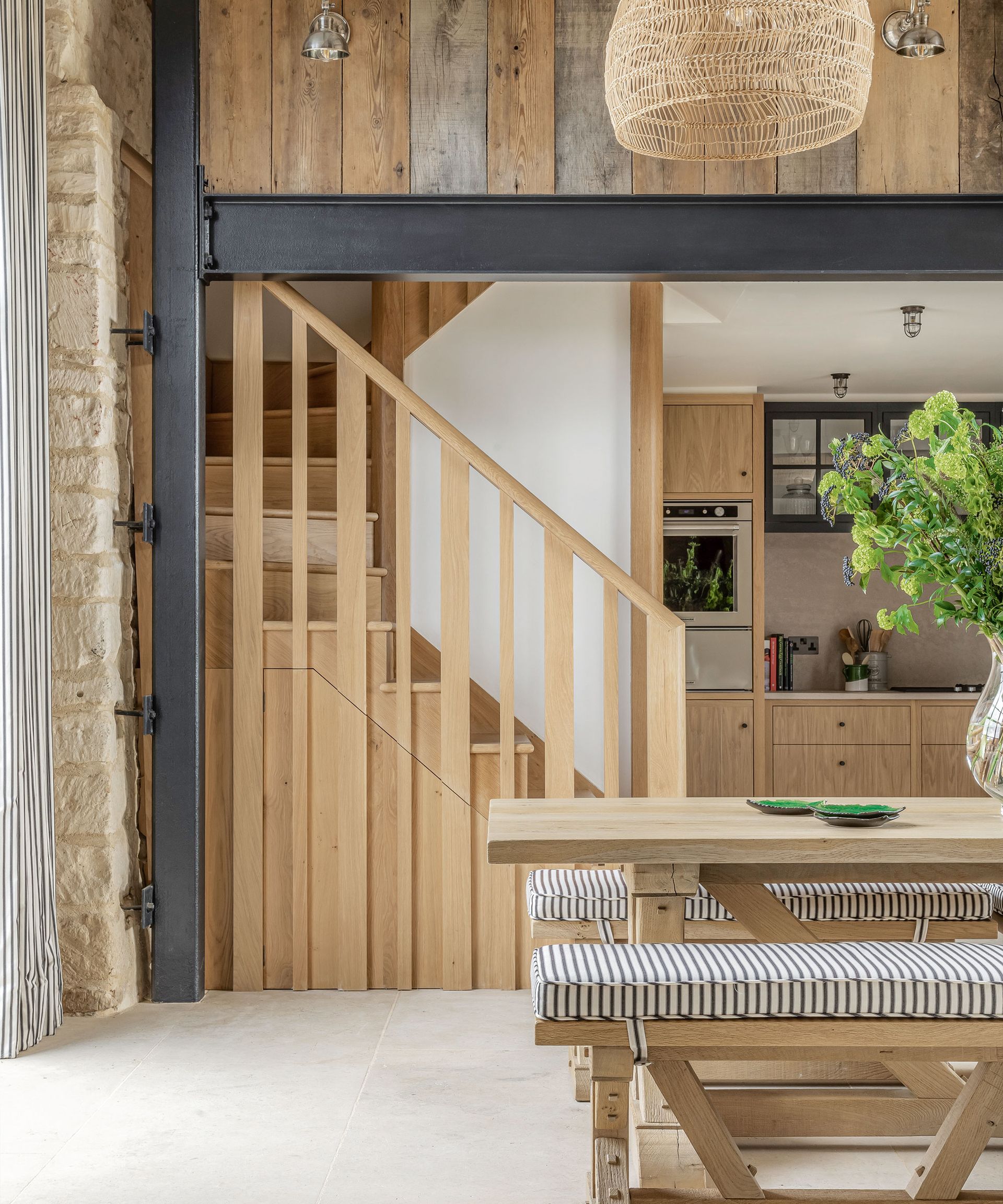 We have explored an array of wooden ceiling beam ideas, however, in many modern interior designs, structural steel beams are left exposed to create a raw, industrial look.
'Industrial decor is all about celebrating the beauty of raw materials and channeling a more minimalist and clean aesthetic,' say Jennifer Ebert, Homes & Gardens' digital editor.
In this beautiful barn conversion, the design unites rustic wooden features and reclaimed materials with smooth, steel supporting beams; a stylish union of the old and the new. An elegant embodiment of how materials and construction have changed over the years, the black steel beam punctuates the organic, natural aesthetic of the barn with a more modern edge.
8. Create a neat, grid-like effect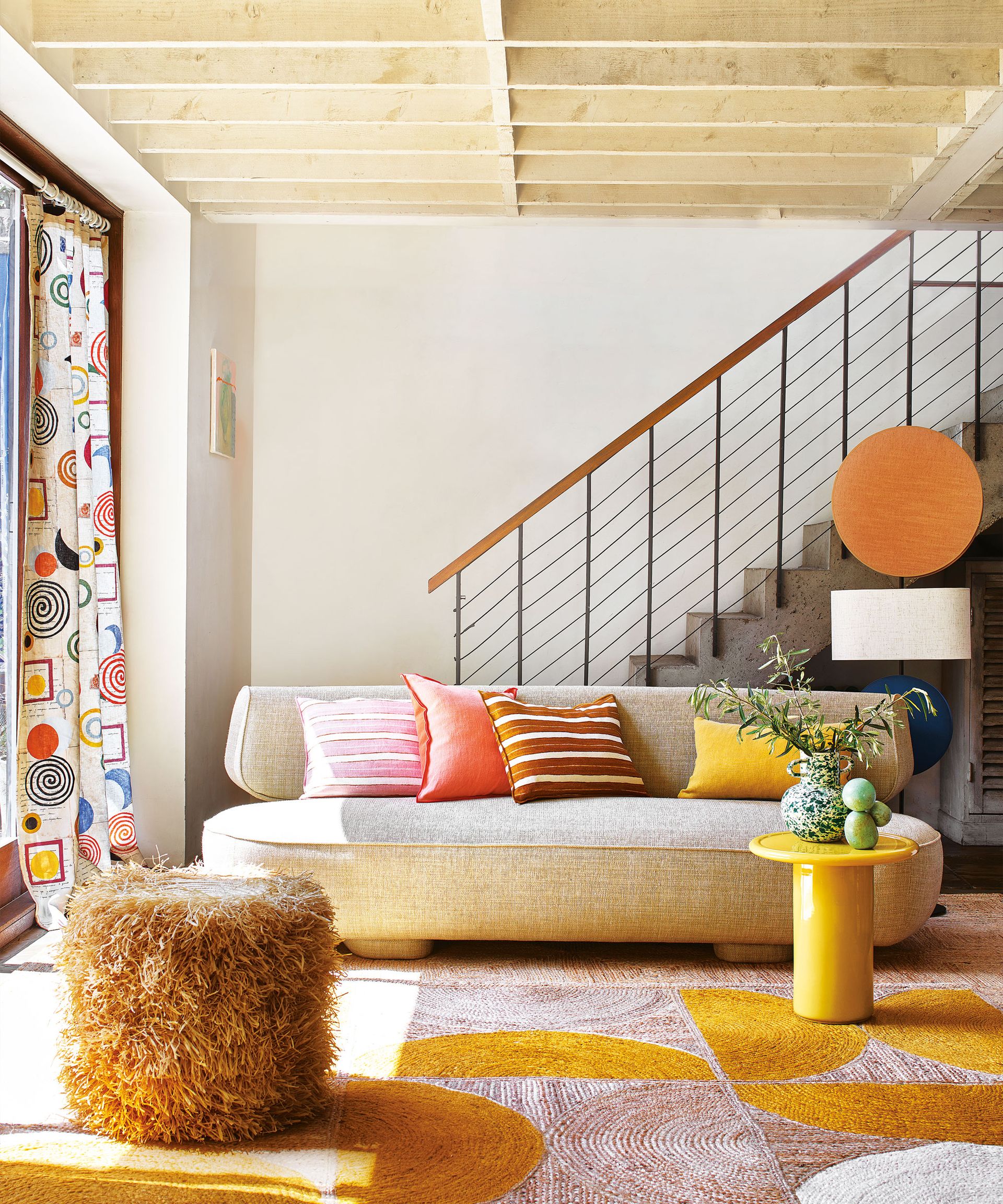 A grid-like effect wooden beamed ceiling can create an amplified feeling of texture, neatness and material on your ceiling.
In this colorful and welcoming living space, the exposed architectural elements of the ceiling highlight a beautiful light wood, embodying a calming and relaxed look. The curvaceous sofa and focus on rounded geometric shapes through the other colorful furniture pieces and accessories, establish an elegant contrast with the clean lines of the wooden ceiling and an inviting element of softness.
An artistic, modern living room design, this space shows how ceiling beams can work wonderfully in environments of all ages and styles.
9. Keep things sleek and simple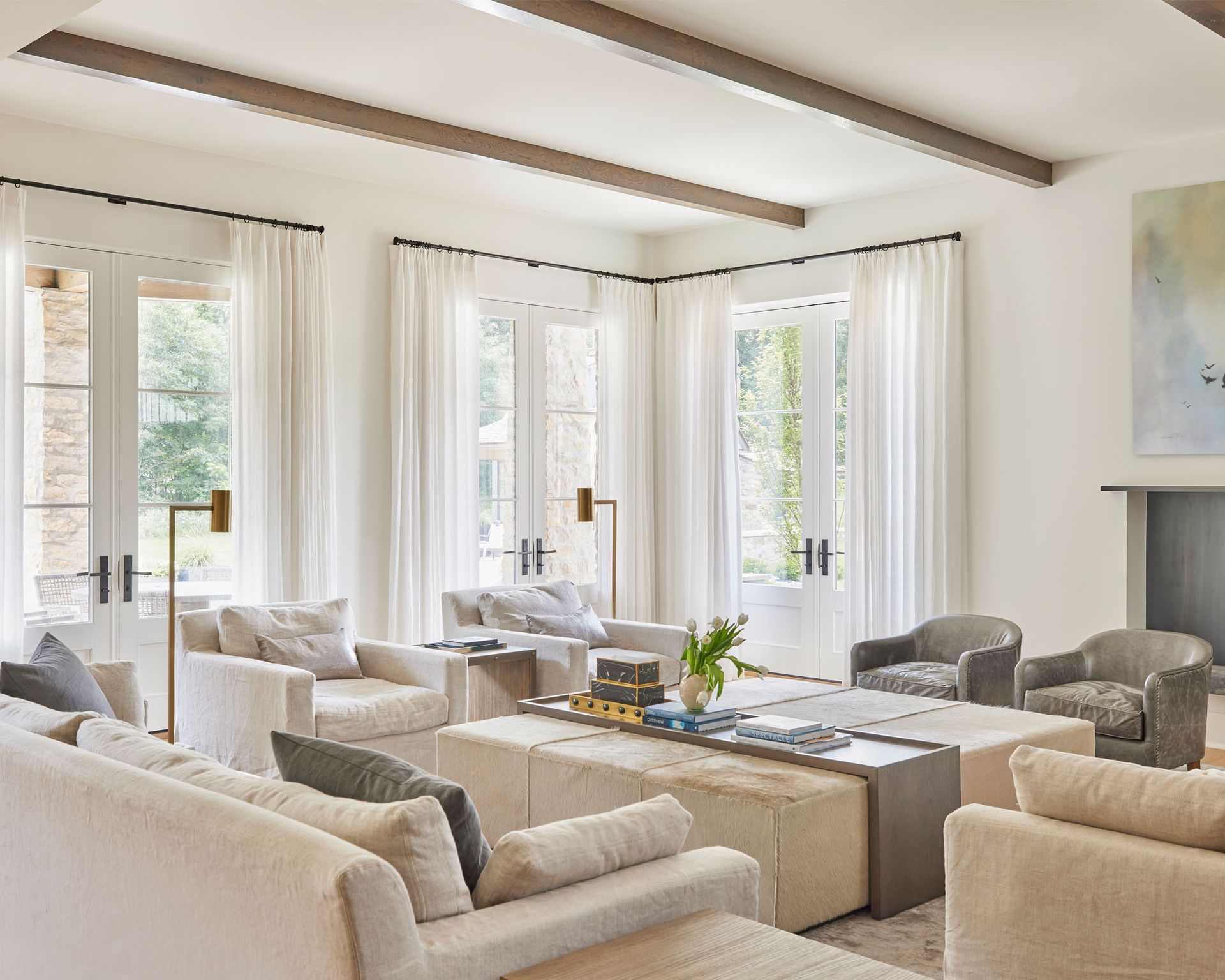 In this elegant, large modern living room by Elizabeth Krueger Design, the dark wooden ceiling beams have been added onto the large ceiling surface to add welcoming texture and visual interest. 
Sleek and simple, the beams have been mounted with large amounts of ceiling space in-between, matching with the larger scale and proportions of the room, as well as being in keeping with the overall simple, elegant and spacious design.
10. Add softness and texture with a canopy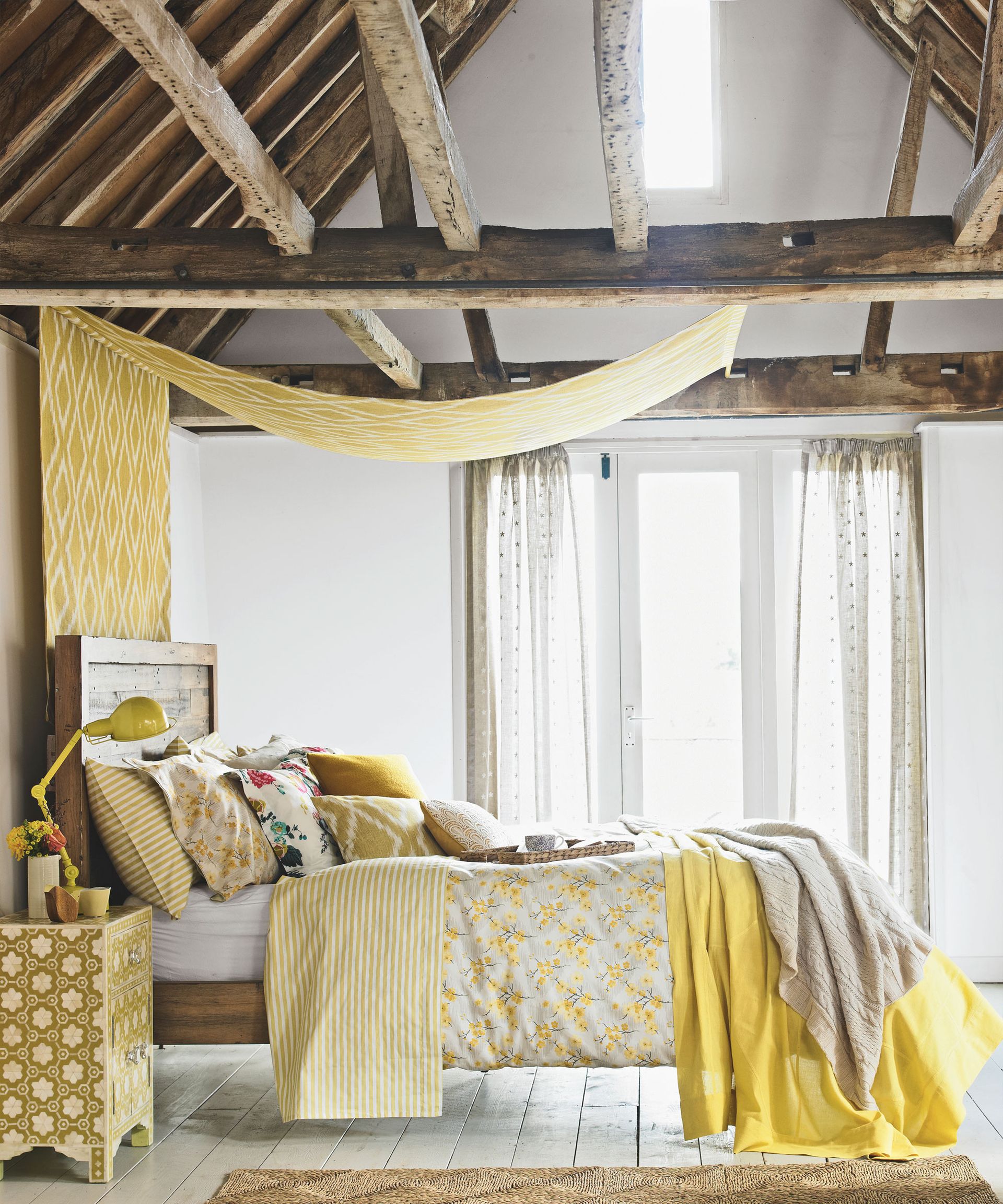 Whether you want to add a unique visual feature to your vaulted ceiling, or simply add an element of softness, a canopy can be a great addition to a beamed ceiling in a bedroom. 
The rustic, dark wooden beams on the vaulted ceiling in this bedroom have been paired with a muted yellow, diamond patterned canopy. Not only adding tactile texture and color to the room, the draped canopy helps to make a more intimate and cozy bedroom space, beautifully zoning the sleeping area. 
A great idea for larger bedrooms with vaulted ceilings or low beams, this canopy helps to create a more calming and comfortable bedroom environment.
11. Enhance a beautiful vaulted ceiling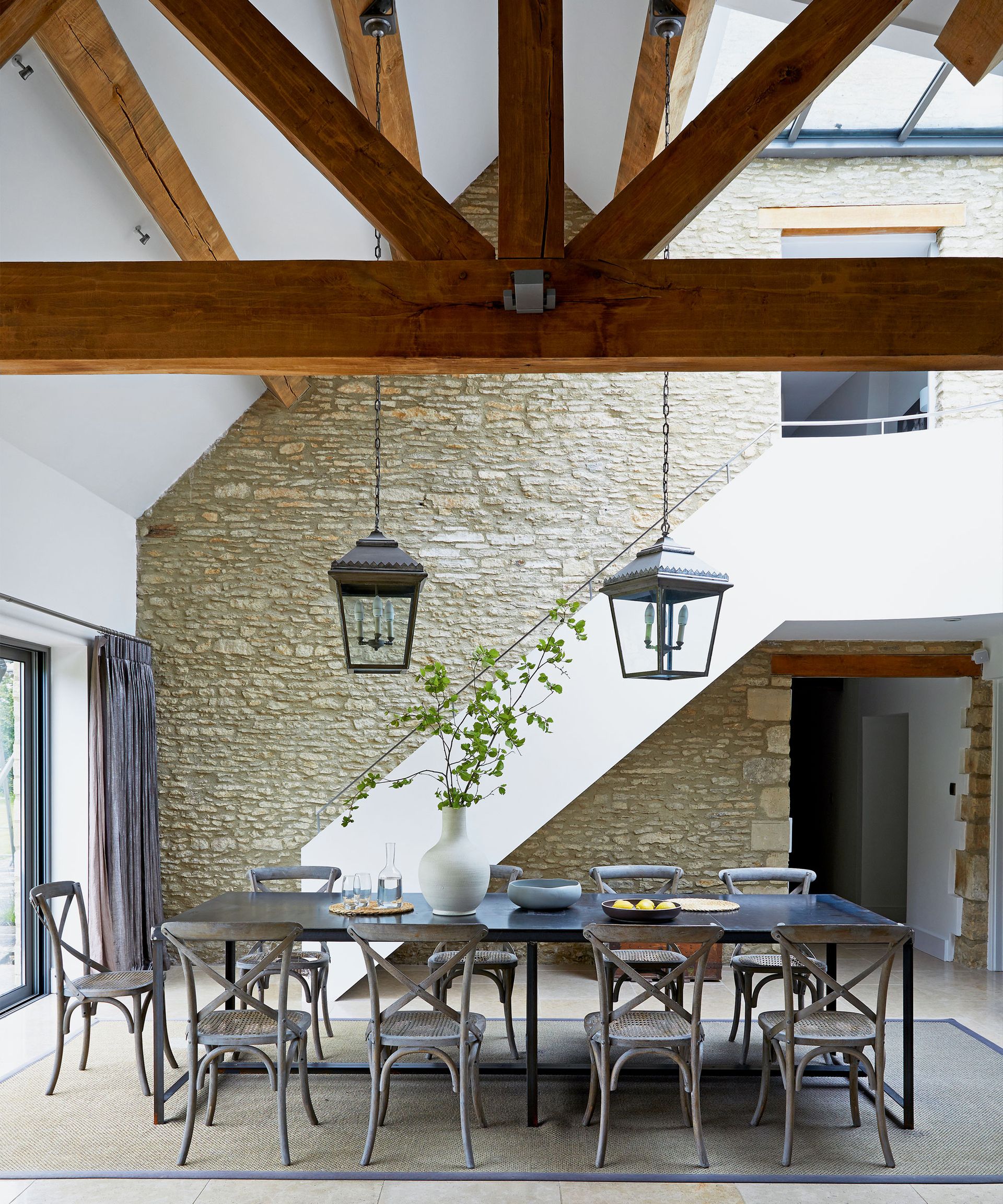 A vaulted ceiling is a self-supporting, arched construction that angles upwards above the walls. Usually supported by durable beams and pillars, this ceiling design can create a magnificent, dramatic effect – especially in larger spaces with double-height ceilings.
As shown in this charming country manor in the Cotswolds, a new extension has been added onto the older part of the home, with the external stone wall being left exposed to create a beautiful connection between the old and the new.
With the wooden beams enhancing the sleek vaulted ceiling shape, the beamed ceiling design is in keeping with the traditional, rustic character of the original building.
Do ceiling beams make a room look smaller?
Not all ceiling beams make a room look smaller, it all depends on the style, finish and effect you want from the ceiling beams in your home – with many designs actually helping a room look longer or wider.
If you have a smaller sized room with darker wooden ceiling beams, they can often make the room feel more intimate and cozy.
However, wooden beams painted white or a matching color to your ceiling can make the space feel more open and connected, adding interesting texture and shape to the ceiling rather than making it feel smaller.
You want your beams to enhance the design of a room, rather than suppress it, so remembering how to best use scale in interior design and finding beams that match the proportions of your space will ensure they do not feel imposing or uncoordinated.
How do you modernize ceiling beams?
There are many ways you can modernize ceiling beams. From contemporary paint colors to the use of more modern materials such as steel, not all beams have to be rustic timber. 
Other options such as limewash, like we have explored, find the perfect balance between a traditional and modern look, keeping the character and texture of the wood but with a more modern color and finish.
Whether you want to add traditional looking faux beams into a modern property, or refresh traditional designs with a more contemporary color palette, not all beamed ceiling ideas need to feel 'modern', working with the style and character of your home to create a ceiling design that feels perfectly integrated and harmonious in the space is key.