Reviews and recommendations are unbiased and products are independently selected. Postmedia may earn an affiliate commission from purchases made through links on this page.
Article content
Q Should I install an air exchanger under a mobile home trailer to prevent rot? I want to enclose the area underneath with skirting to make the floor warm in winter.
Article content
A Closing things up as you propose often leads to moisture issues, mold and rot. Also, I'm not aware of any heat exchanger that can work in an environment that's colder than normal room temperature during winter.
Article content
Personally, I would never enclose any under-building space because it always leads to trouble, in my experience. And if all this wasn't enough, skirting doesn't even increase floor temperatures sufficiently to make a difference. Spray foam applied to the underside of the floor will keep your floors slightly warmer, but floors will still feel cold with the foam and even with skirting in place.
I've never seen any floor (even an insulated floor with skirting) feel anything like warm underfoot when that floor is over an unheated space in winter. My son and I built a house for him, it sits on 24-inch-high masonry piers, and it has has no skirting at all – just bare joists and the underside of the subfloor completely open to the air. The floors are nice and warm in winter for two reasons.
Article content
First, there's rigid sheets of two-inch-thick foam insulation on top of the plywood subfloor and underneath the finished floors. And second, there's radiant electric heating cables just under the finished floor. This doesn't heat the entire building, but just uses a little power to keep toes toasty. It's a combination that works wonderfully.
Like I said, I'd definitely avoid skirting in your situation and any others like it. If you did want to install skirting for appearance sake, you'll need to leave at least 15 per cent of the space open in two places for ventilation.
———–
Plywood as a deck floor?
Q What's your take on 4×8 sheets of tongue and groove plywood as a deck floor, instead of the kind of lumber usually used for this? I'd love to keep the space below the deck dry.
Article content
A Decks are typically built with lumber that has spaces between boards to allow rainwater and melt water to run down to the ground. Any kind of sheet material that big would get slippery and would hold water.
If your aim is to have dry storage space under your deck, metal roofing installed on the bottom edge of the joists is a great option if the deck is high enough to work under. Cut tapered strips of wood to create an outward slope (1/2-inch per foot is a good angle). Fasten these strips to the bottom edges of the joists, then use roofing screws to fasten the roofing metal to these tapered strips in the usual way. Water will shed outwards, away from anything stored under your deck.
———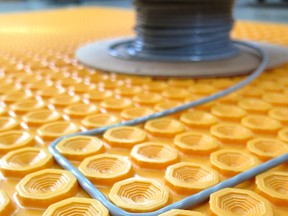 Icy baseboard fix
Q What can I do to stop ice from forming on the baseboards of my house during winter? We have a 1960s bungalow, and baseboard behind couches and beds get frosty during cold, windy weather. No wind and no ice regardless of temperature.
Article content
A Your trouble is not unique and it highlights how devastating it is when air can move through insulation. Your walls almost certainly have fibre insulation batts in the walls, and while these work to an extent when it's calm, real-world energy performance plummets when the wind picks up.
Without tearing off the drywall and re-insulating the walls, a simpler approach that will help involves injecting spray foam into the wall cavities behind the baseboard. Try it in one area first, then see how it performs. Pull the baseboard off, drill holes every 24 inches in the drywall three inches above the floor, then inject spray foam from a can.
Steve Maxwell is creator behind BaileyLineRoad.com, the place for made-in-Canada articles and videos on home improvements, woodworking and hands-on living.