The best island countertop ideas are the ones that truly sing. After all, the island is often a central gathering and meeting point in the home, so ensuring your island countertop ideas are both practical and beautiful is essential to creating a long-lasting and stylish scheme.
When planning kitchen countertop ideas, the use of natural materials is often at the forefront, with marble, granite and wood creating timeless designs. However, recent trends show that other materials such as metal, laminate and concrete can create stunning countertop designs for spaces both classic and contemporary.
You want your kitchen island to draw people into the kitchen space and create a charming focal point, so carefully planning your island countertop ideas to establish a stand out design is key.
Island countertop ideas – 16 statement surfaces 
To help with the organization of the kitchen ideas in your home, we have asked the experts for their island countertop advice and gathered our top island countertop ideas to provide you with some impressive inspiration.
1. Use a mix of materials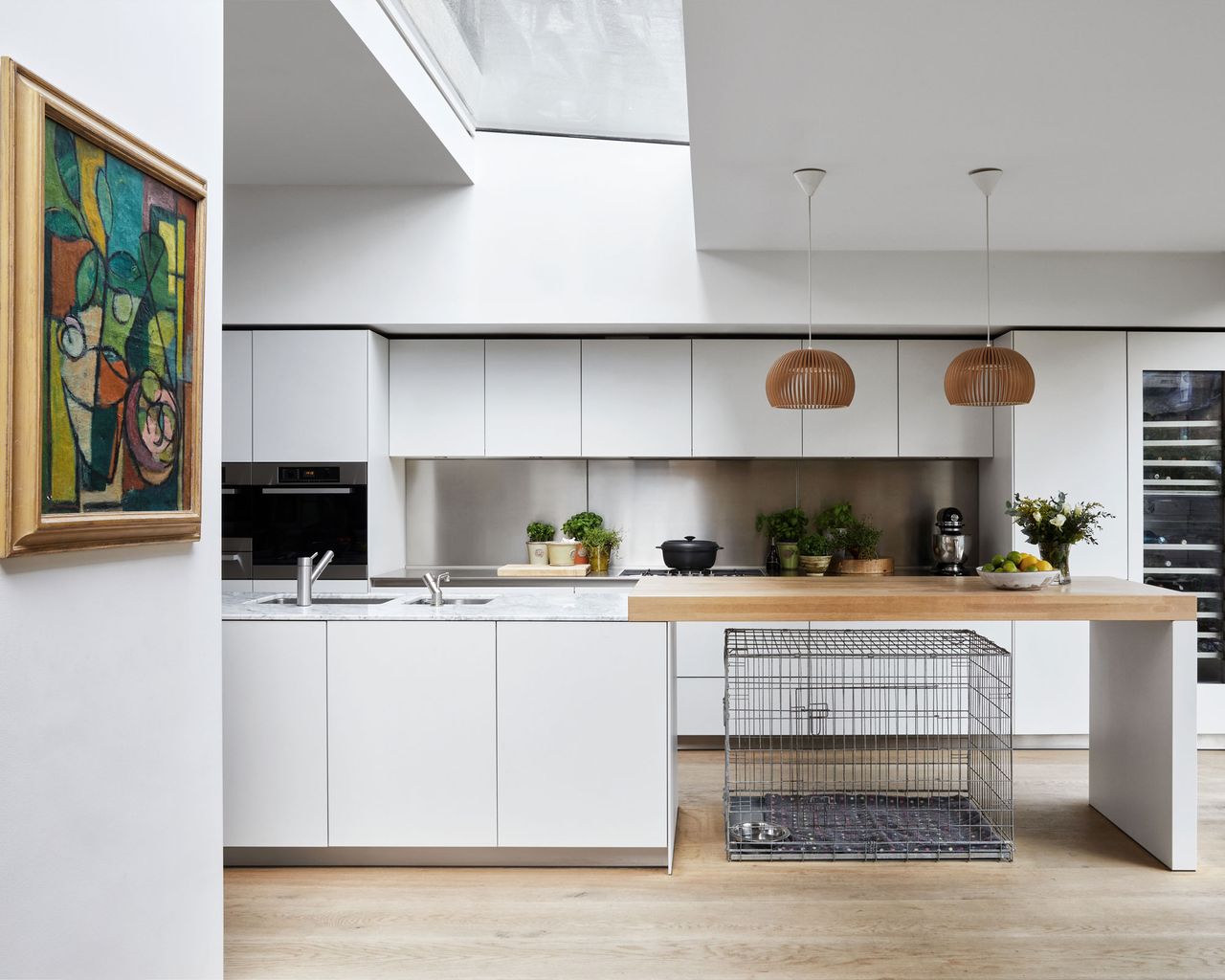 If you are undecided on what material to use for your island countertop ideas – why not use more than one?
Creating an island countertop design from a mix of materials can create a beautiful element of contrast, as well as establishing a functional, sectioned design where different areas of the island have separate uses. Oliver Webb, Director at Cullifords also states, 'consider mixing worktop materials for visual interest and depth'.
In this open-plan kitchen, the large kitchen island is defined by a mix of materials and shapes. The island countertop has been crafted from a mix of warming wood and smooth marble. The marble section is ideal for food preparation and cooking, with the wood creating an inviting surface to socialize and pull up a bar stool.
2. Use tiles for a striking, textured effect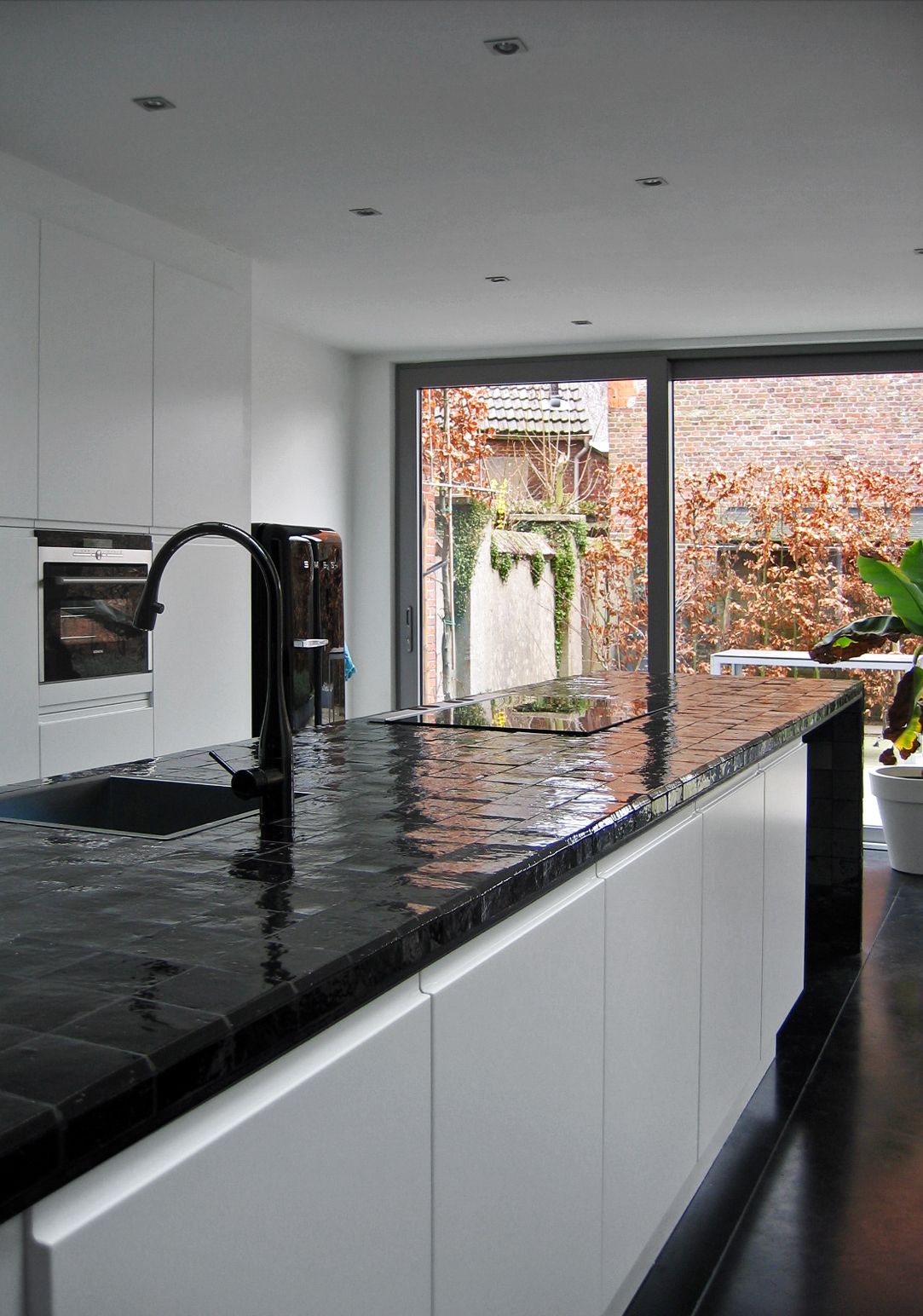 Tile countertop ideas can create a beautiful, decorative statement in your kitchen space.
A great way to inject color and character into your kitchen, using tiles for your island countertop ideas can create a unique, textured surface that is inviting to touch and pleasing to look at.
The beautiful black zellige tiles used for this statement kitchen island add a subtle touch of drama to the space, elegantly contrasting with the white cupboards and and painted walls to form a modern, monochromatic look. Not just for bathroom countertop ideas, Moroccan zellige tiles have stunning reflective qualities, creating an eye-catching, shimmering effect that will effortlessly allure people to your kitchen island space.
3. Coordinate with other kitchen worktops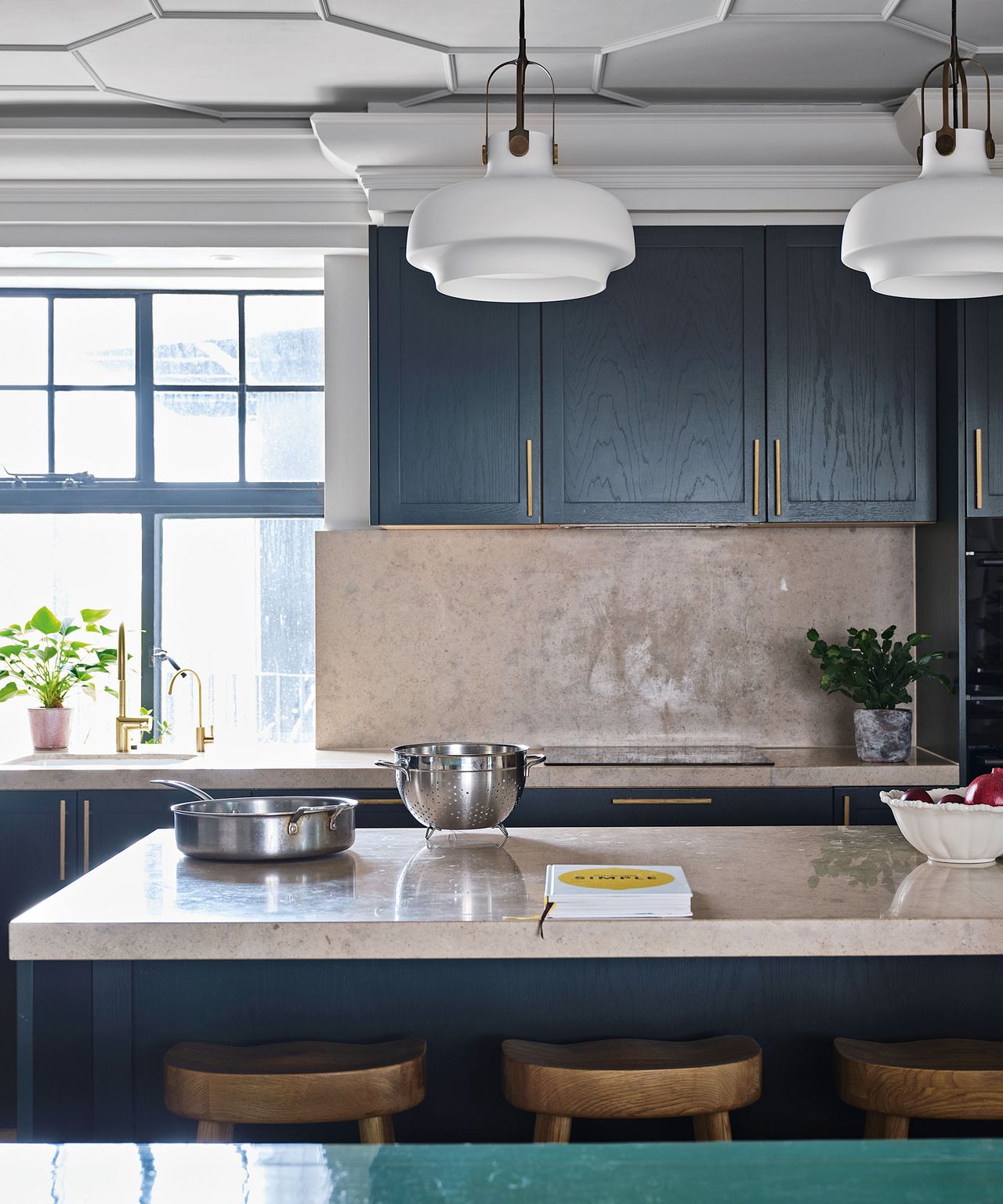 A simple island countertop idea for a seamless, united look, coordinating your island countertop with the rest of the worktops in your kitchen is always going to establish a sophisticated and well thought out scheme.
Hege Lundh, Marketing & Business Development Director at Lundhs Real Stone states, 'for a truly standout design, opt for a solid block of stone as your island, and for a seamless contemporary aesthetic, pair your natural stone choice with a complementary cabinetry color.'
In this kitchen, the polished, pale granite stone worktops coordinate beautifully with the dark gray units, creating an elegant scheme where the beauty of the natural stone takes center stage.
4.  Add color and character to your kitchen space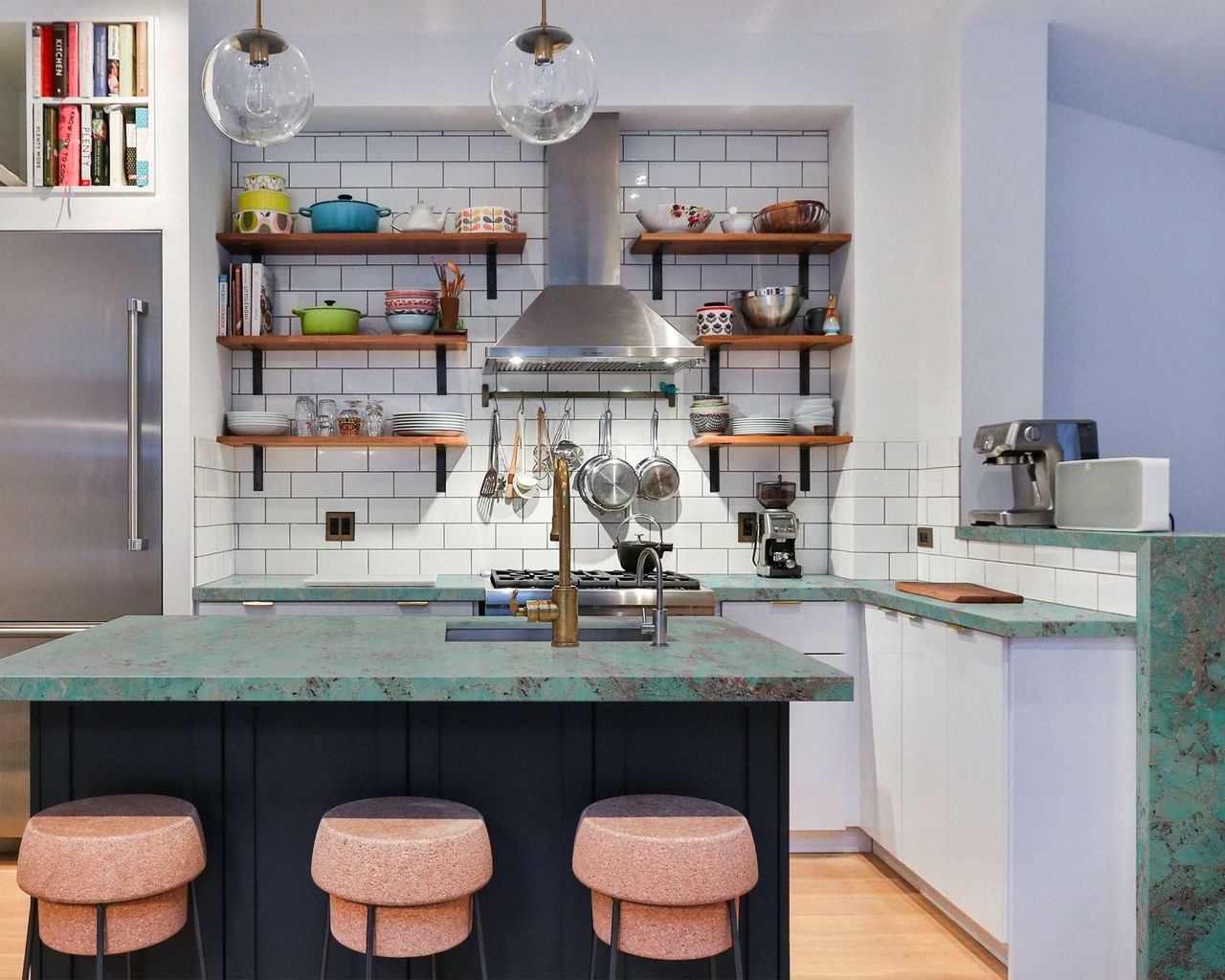 An island countertop is a great space to be confident with color, whether you make a statement and pick a material or color that contrasts with the rest of your scheme, or coordinate with your other worktops for a united, bold effect. 
The beautiful, green amazonite quartzite from Brazil used in this kitchen by Cullifords creates a truly show-stopping space. The intricate natural beauty and color of the stone not only forms a stunning kitchen design, but creates an instant talking point when people enter the room. 
Adding a bold element of color and texture to this kitchen space, the unique mix of colors and shapes within this precious stone is a luxurious option for island countertop ideas.
5. Extend your countertop design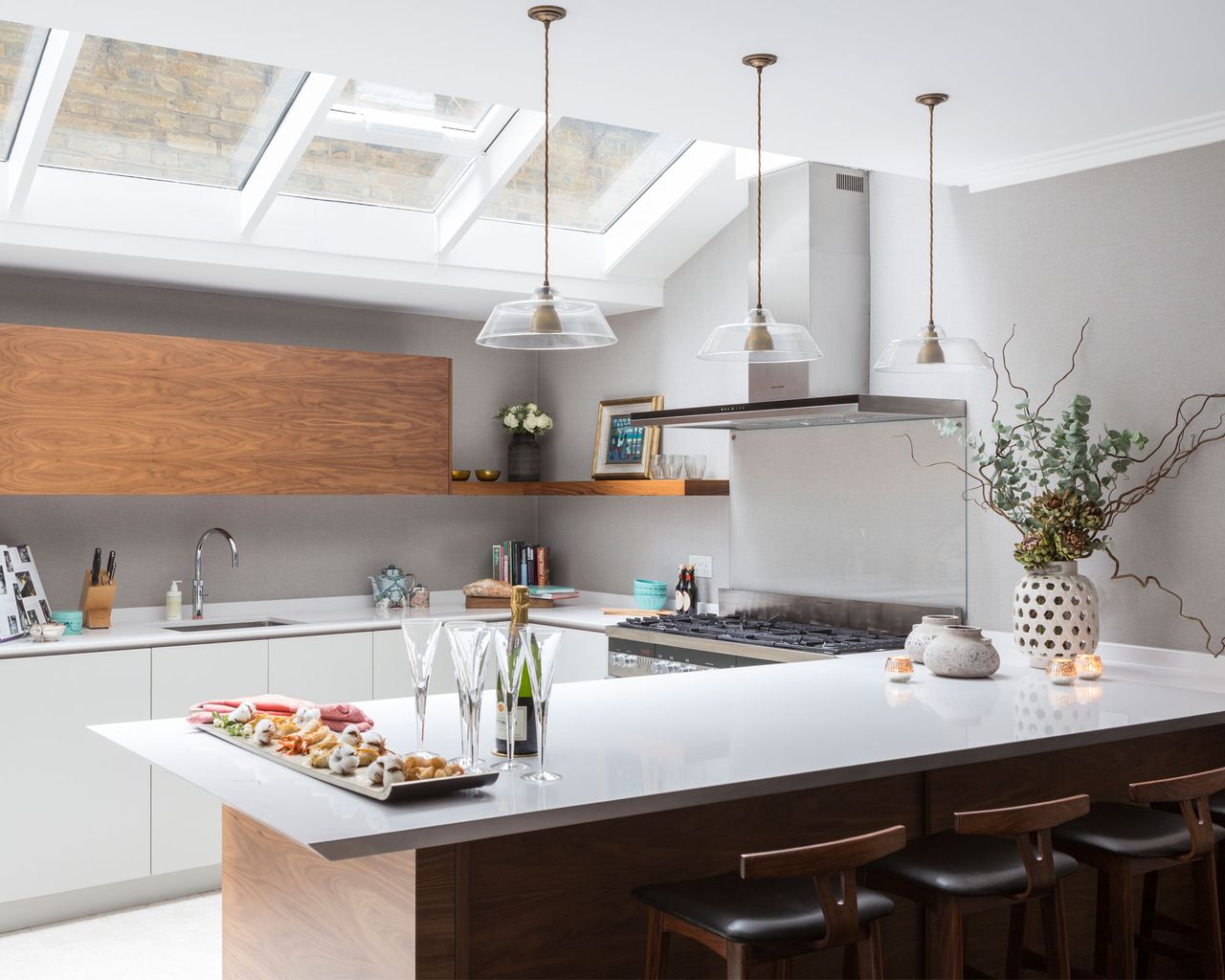 Simple yet highly effective if you want your island countertop to subtly stand out, extending the countertop design so it creates an overhang can create a sleek surface where your chosen material can be fully appreciated. 
By having the white quartz countertop extending slightly over the dark wood base in this kitchen, the classic and simple worktop design is made into more of an eye-catching feature. 
Practically, an overhang also allows for you to neatly slot chairs and stools under the countertop surface, freeing up space when they're not in use and protecting them from wear and tear over time.
6.  Embrace the warmth of wood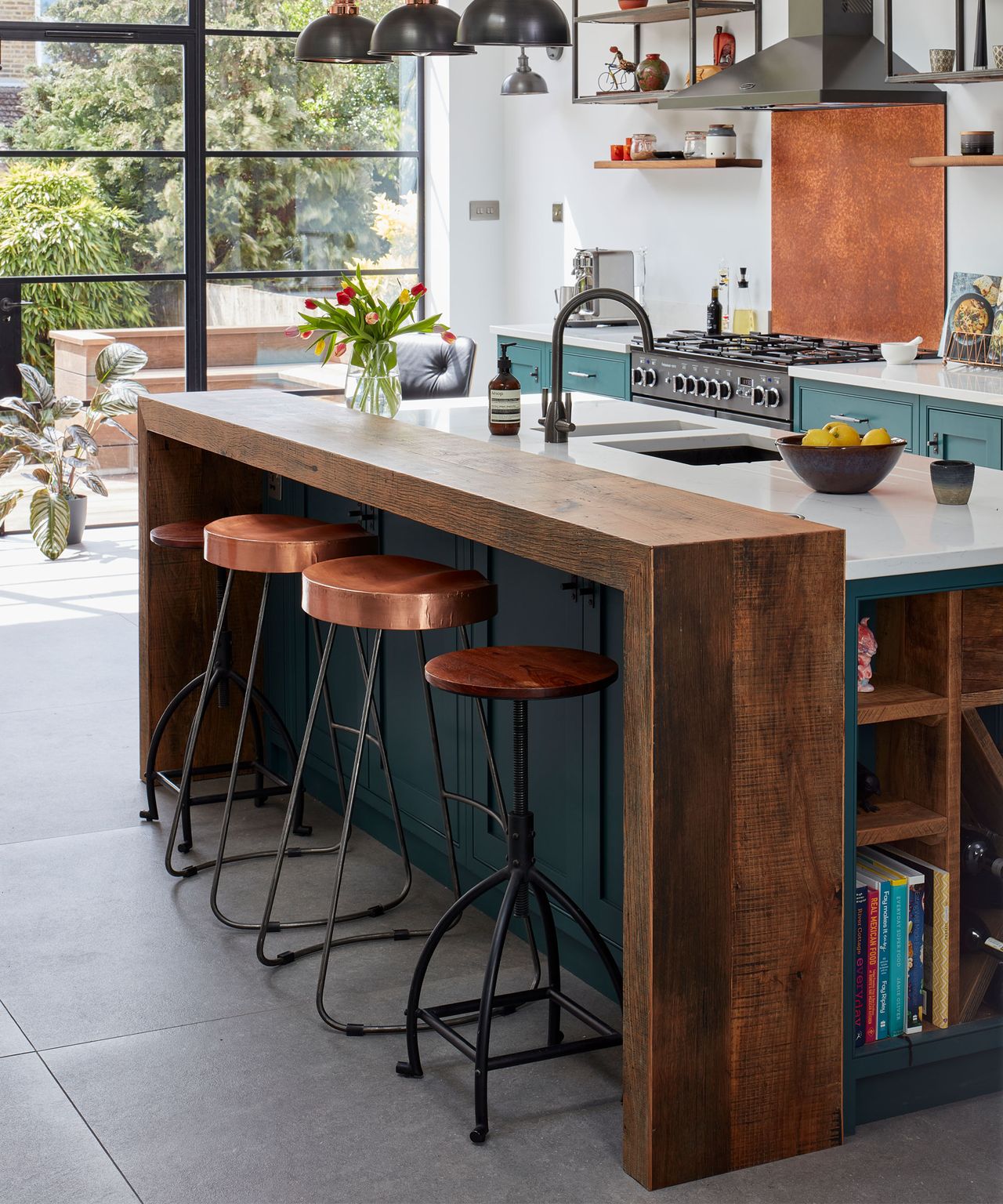 Wooden island countertops can integrate into both rustic and contemporary designs. A timeless material that is a great option for kitchen countertops, using wood is both a practical and appealing choice for a kitchen space. 
Alex Main, Director of The Main Company  states, 'one of the benefits of using wood for the worktops is the inherent natural beauty of the material, as each piece has its own unique character and markings. Reclaimed wood worktops create a new lease of life for the original material and are therefore the ideal choice if you're considering an environmentally friendly solution in your kitchen that doesn't compromise on style. Additionally, the wood surface can be easily sanded back if stained and is generally a softer, more tactile material to work with.'
The innovative, kitchen island and zoned breakfast bar in this space uses a beautiful mix of wood and stone, with the dark wood adding a warming and inviting touch to the contemporary styled space.
7. Use all one material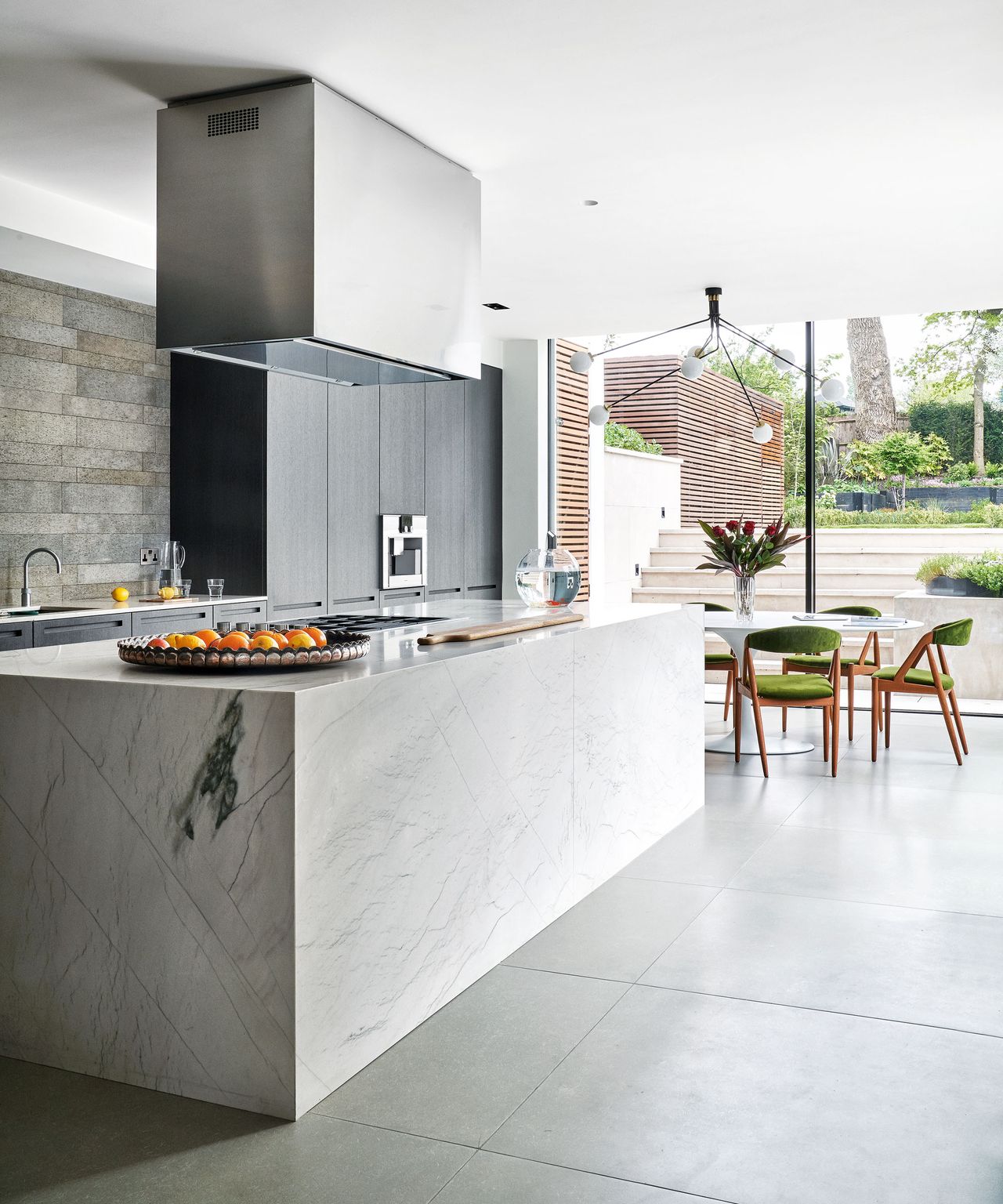 When planning your island countertop ideas, using all one material for both the base and countertop of the island can create a grounding and sophisticated design. 
In this bright kitchen, the large, marbled kitchen island creates a stunning centerpiece in the space. This impressive use of the marble celebrates the beauty of this natural material and creates a sleek, continuous island design that is simple in shape yet powerful in effect.
8. Choose a luxurious marble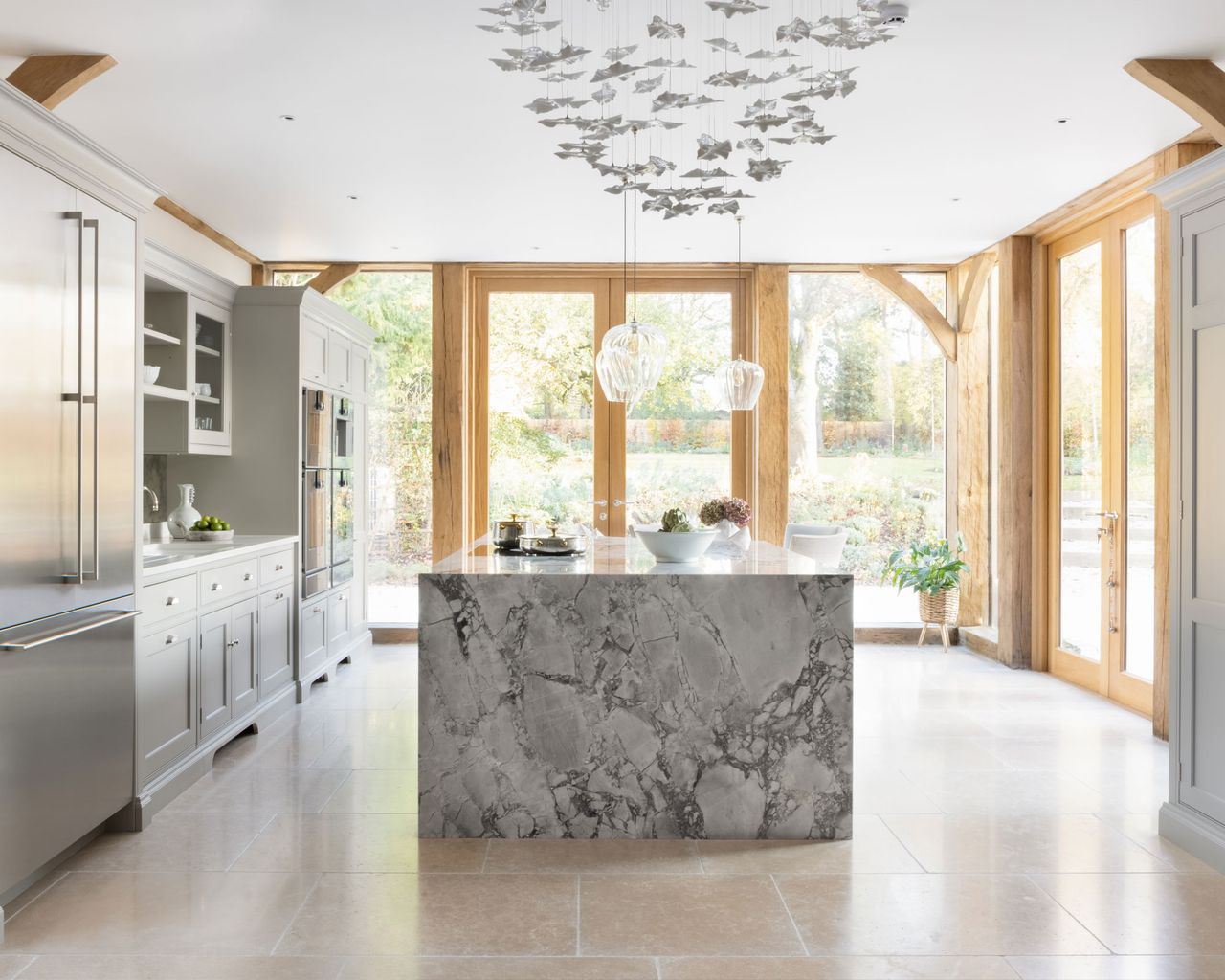 Beautiful and extremely durable, marble is often a popular choice when considering island countertop ideas, with there being a rapid rise in veined kitchen countertops. With a range of styles and colors to choose from, this natural material can make a stunning feature of your kitchen island.
In this kitchen by Humphrey Munson, the marble island creates an elegant contrast with the more traditional cabinets and wooden features in the space, establishing an beautiful design that innovatively mixes materials and styles.
Marble can effortlessly integrate into interiors both classic and contemporary, whether you want your island countertop ideas to stand out or subtly blend in, marble can do both.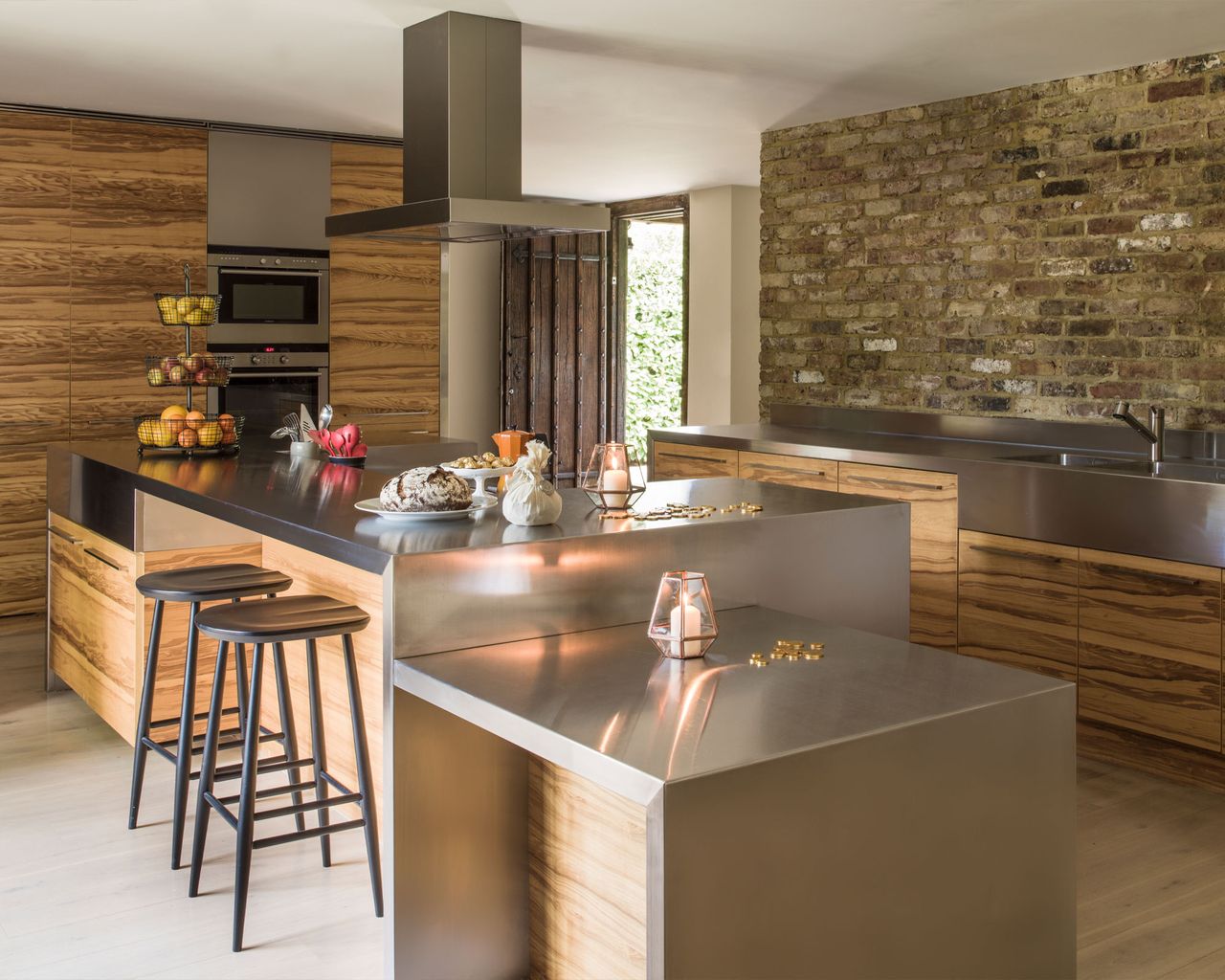 More often found in a chef's kitchen, using metal for your island countertop ideas at home can create a striking, industrial effect.
Industrial decor celebrates the versatility and practicality of working with raw materials, and using metal for your island countertop ideas can establish a unique design, perfect for a minimalist and modern style. 
The use of metal on the worktops throughout this kitchen create a sleek and streamlined look where the overall design truly (and physically) shines. 
Metal is also an exceptionally practical choice for island countertop ides. Usually used for worktops in professional kitchens, the material is antibacterial and can be easily cleaned and maintained.
10. Make a statement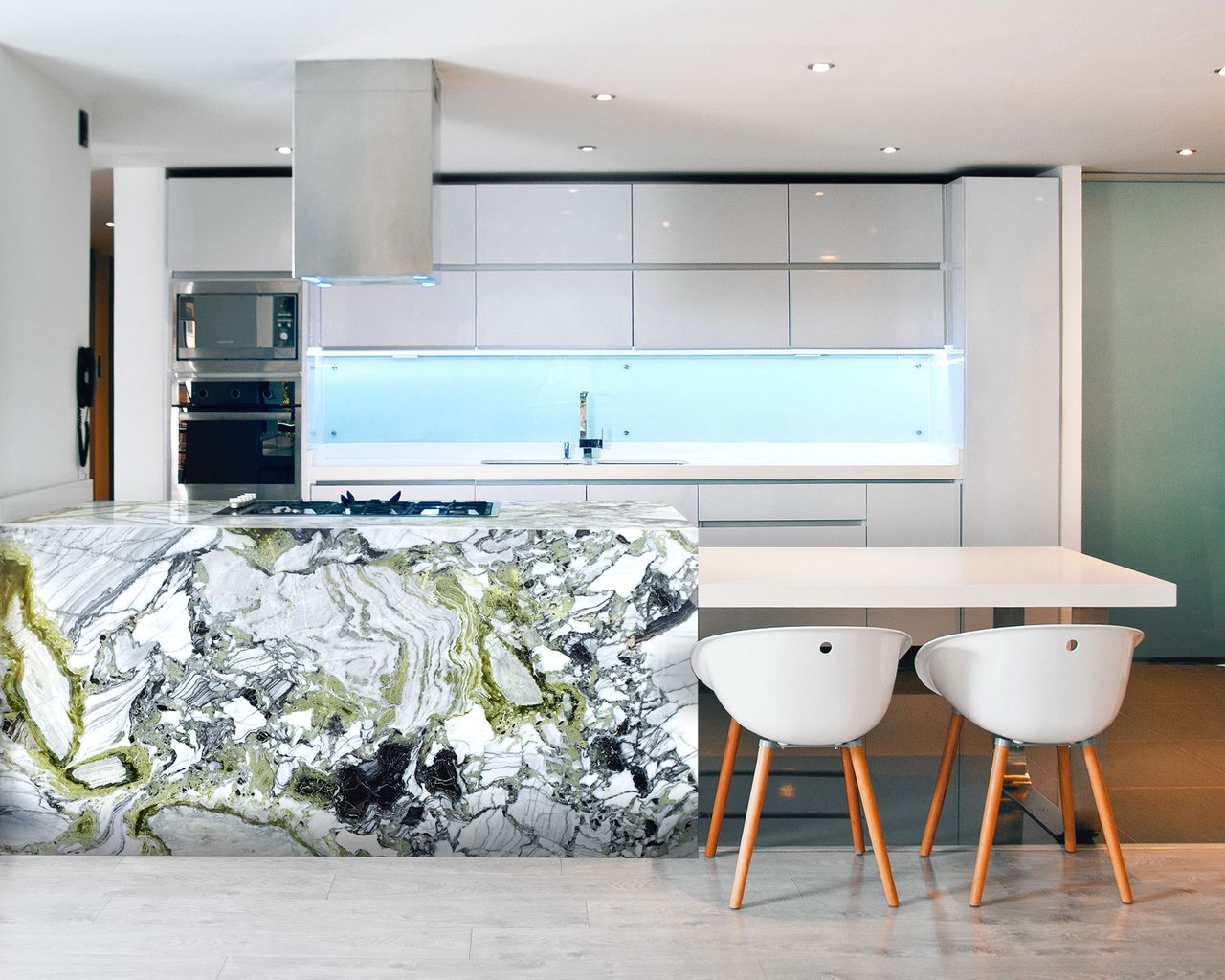 A modern kitchen island design is the perfect place to make a statement and create a stylish element of contrast in the space.
Oliver Webb, Director at Cullifords states, 'statement islands are here to stay. Tying into the desire to create truly unique and personalized spaces, homeowners and designers are increasingly turning to the central island to make their statement and put their individual stamp on the space. Whether with a waterfall worktop or simply a standout surface choice, the island will remain a key focal and talking point when it comes to kitchen design.'
The striking, white beauty marble used in this kitchen adds color, character and stunning texture to the bright white kitchen space. Using striking materials and colors for your island countertop ideas can create a unique kitchen design that is bold and truly reflective of your style.
11. Use enduring limestone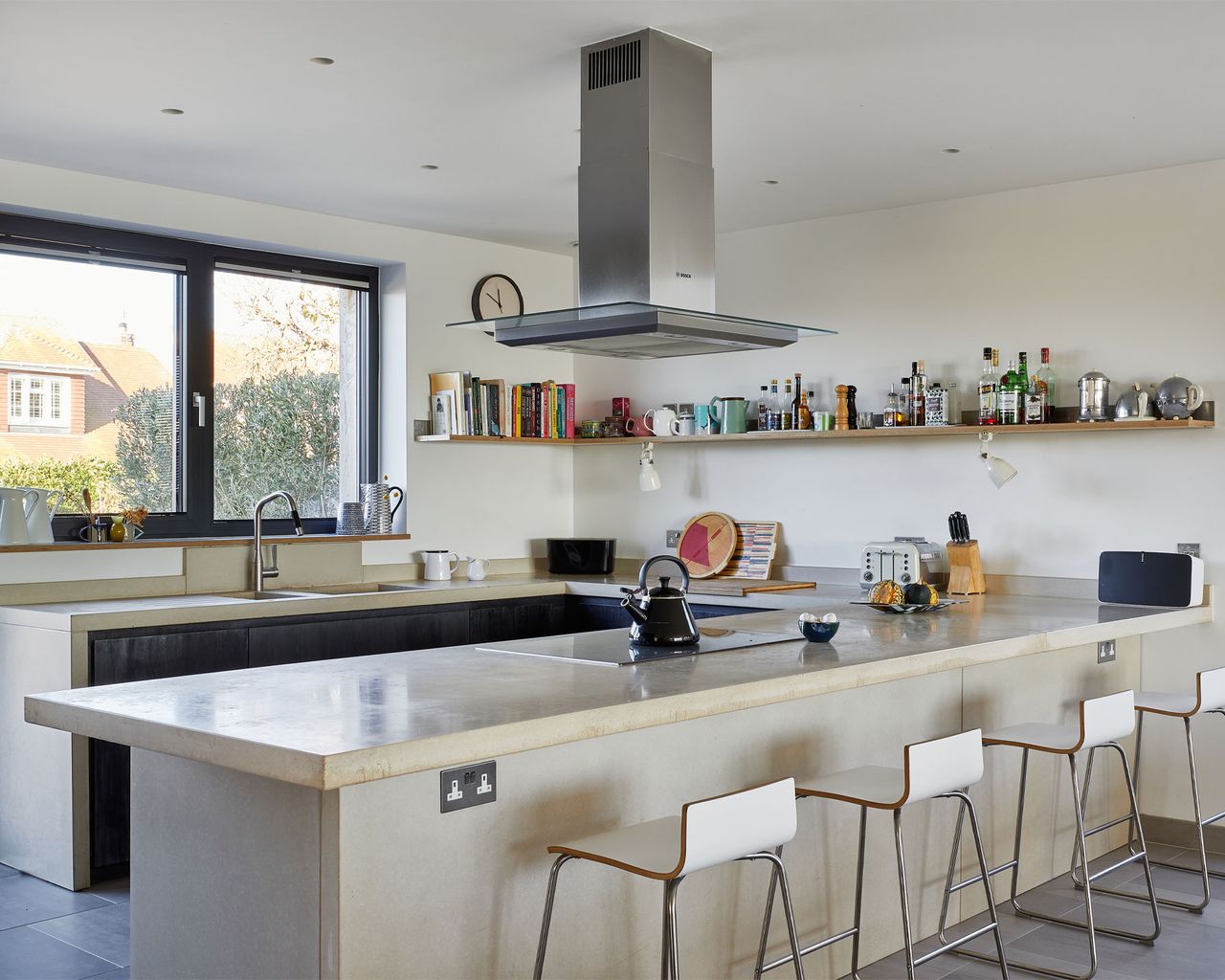 A beautiful natural stone that has been used for centuries for interior and exterior construction and design, limestone can create timeless bar countertop ideas. Durable and sophisticated, a limestone countertop can bring inviting texture and a striking natural element to a kitchen. 
In this design by The Main Company limestone is used for the countertops throughout, creating a calming and relaxed look. The larger countertop creates a versatile bar area as well as providing a practical surface for kitchen tasks.
12. Mix different materials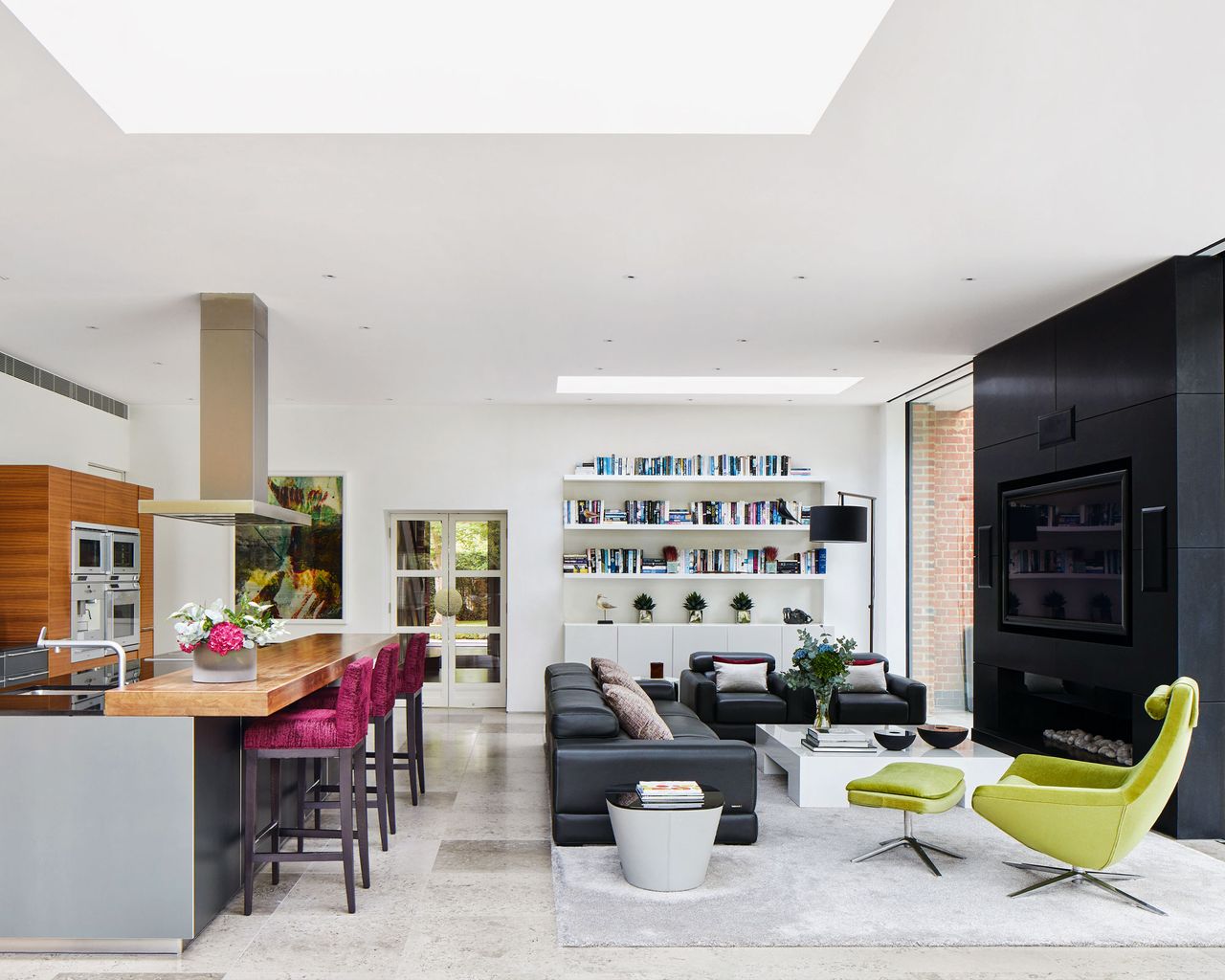 Create a sense of separation between a bar and the rest of an island using a mix of materials. 
In this open plan kitchen-living area, the raised bar has been crafted from a warming dark wood, complementing the wood cabinets yet creating an elegant contrast with the black and gray island and overall monochromatic scheme used throughout.
'Consider mixing countertop materials for visual interest and depth: for example, if the surfaces are mainly in granite, consider wood for a breakfast bar or stainless steel near the range or elsewhere,' suggests Oliver Webb, director at Cullifords.
13. Zone the space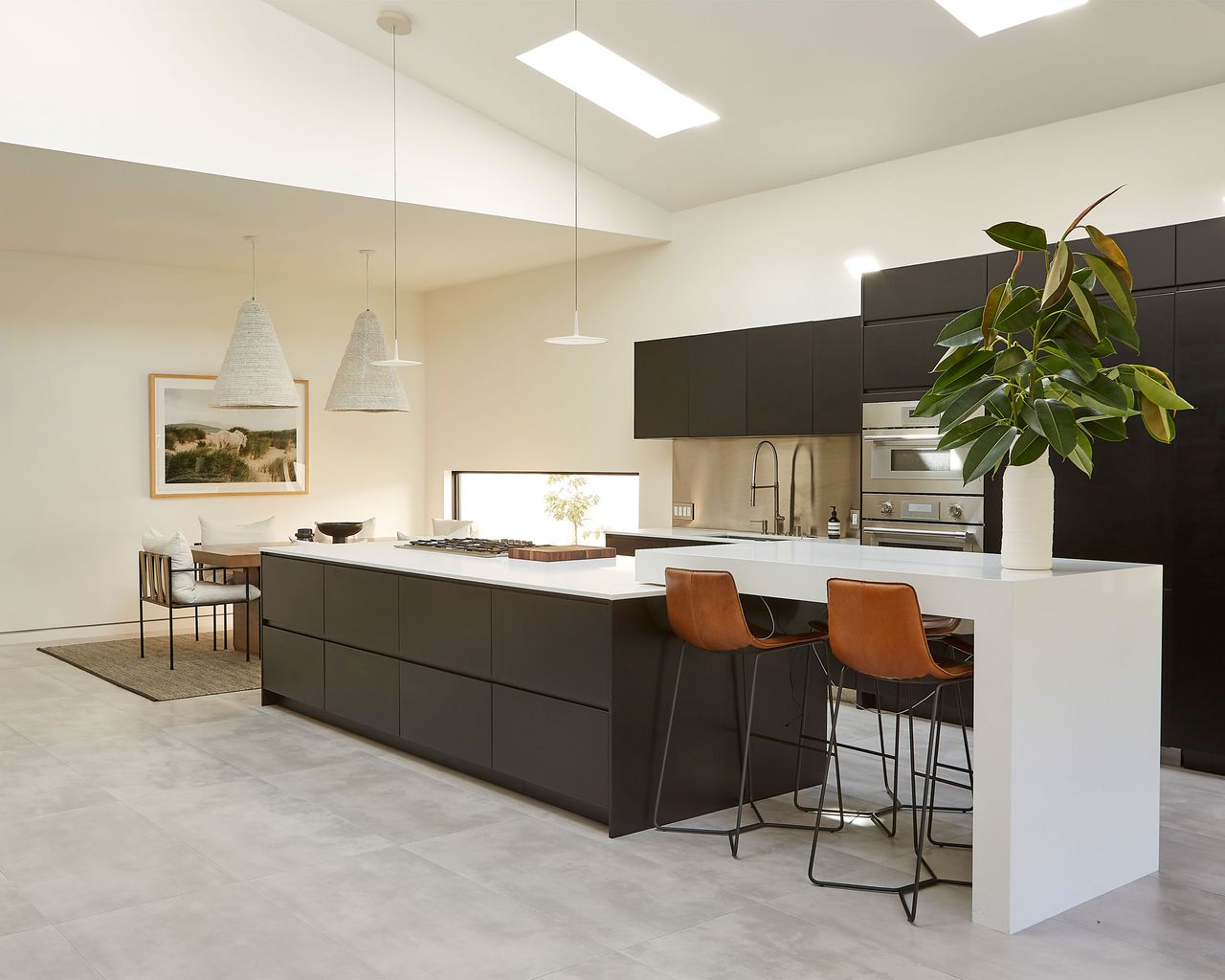 In this bright and spacious kitchen designed by Lucie Ayres from 22 Interiors, the central island and bar space has been cleverly zoned by the used of contrasting materials and levels. 
The raised bar countertop is still connected to the central island, both physically and through the same shared white countertop, but a clear, separate zone is established through its higher level and contrasting shape.
'Change the level of the countertop where the material changes if possible to add clearly zoned areas,' recommends Oliver Webb. It's a great strategy for breakfast bar ideas, too.
14. Unite different shapes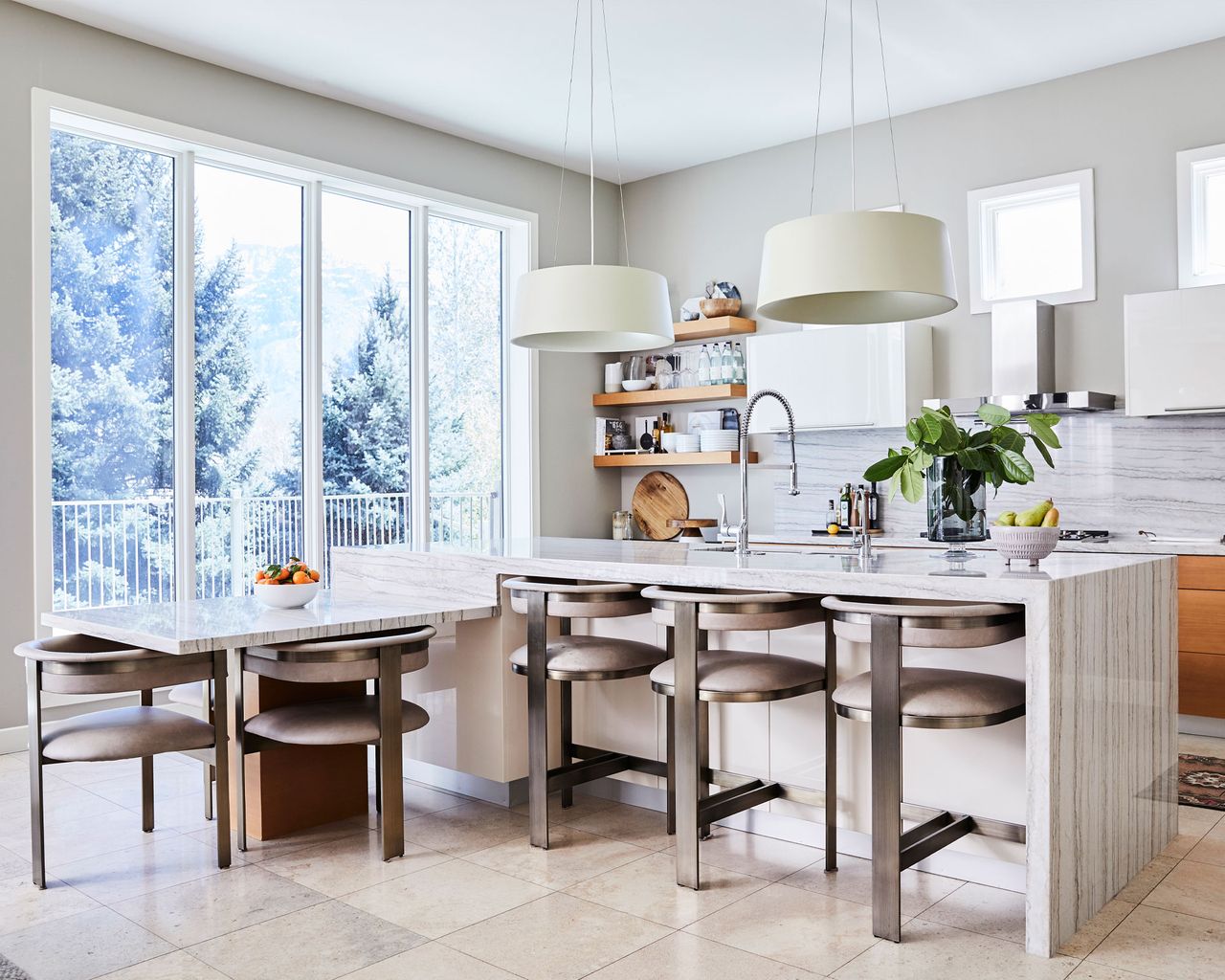 Combining countertops of different sizes and shapes can help to create versatile kitchen island ideas.
In this kitchen by Alice Lane Interior Design, the large island and bar design has distinct zones due to the varied levels and shapes of the counters. 'We added pendants over the island with more visual weight to connect the tall ceiling with the island, and we also changed out the kitchen countertops for a macaubus quartzite with artistic veining that reminded us of a hand-drawn sketch,' the designers explain.
The large countertop creates a sleek bar that faces the main elements of the kitchen, whereas the lower, smaller square counter forms an intimate dining area that is slightly separate. 
15. Create an industrial effect with concrete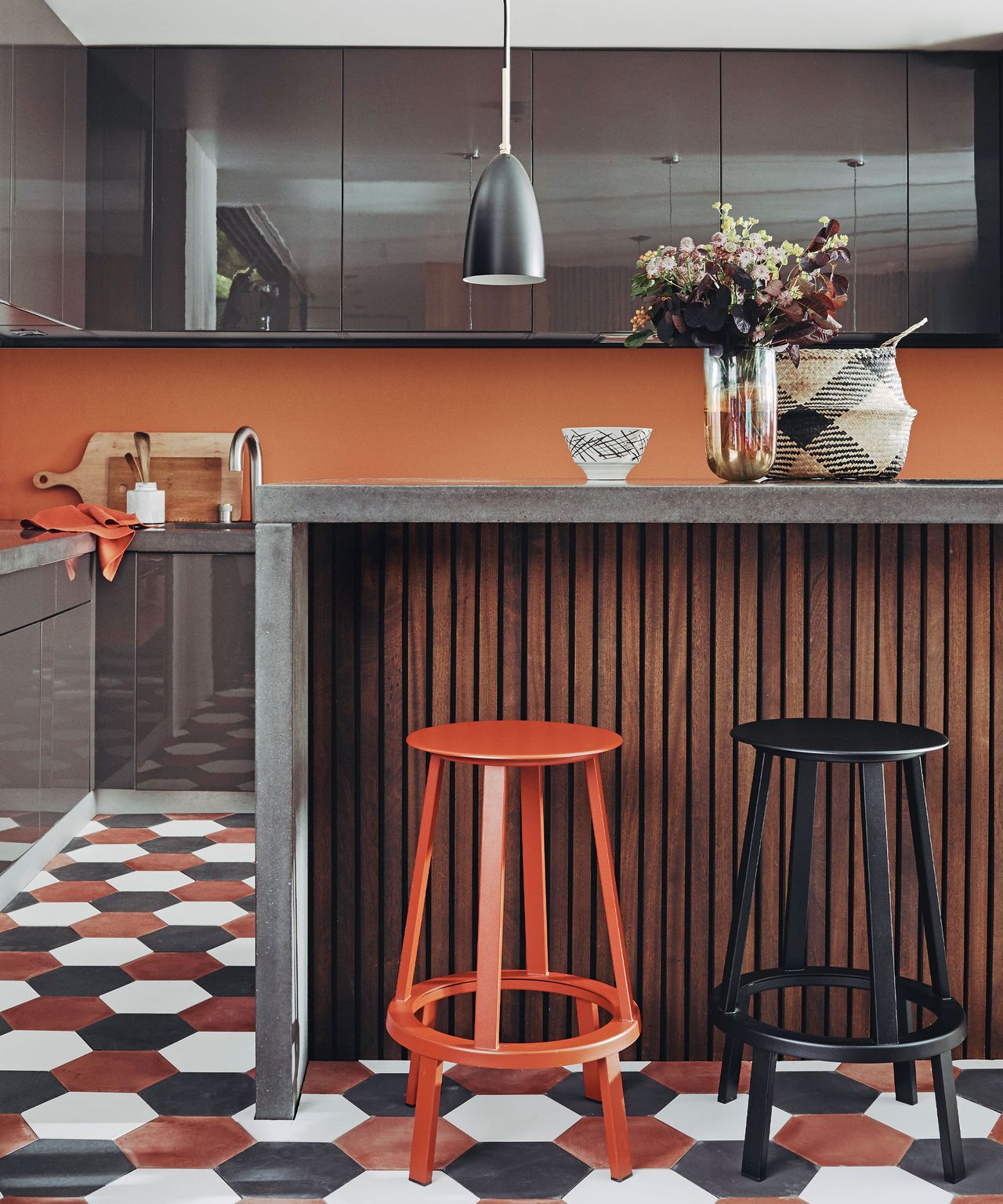 Whether you want to create a striking element of contrast in your kitchen, or match the industrial decor and style of your home, think concrete bar countertop ideas.
A versatile building material that is increasingly being left exposed in interior designs, as well as being used to create unique furniture and decorative pieces for the home, concrete can make a stylish statement. 
The concrete bar counter used in this kitchen forms an elegant contrast with the warming wood and bright tile and paint colors, making the bar area a focal point.
16. Create texture with tiles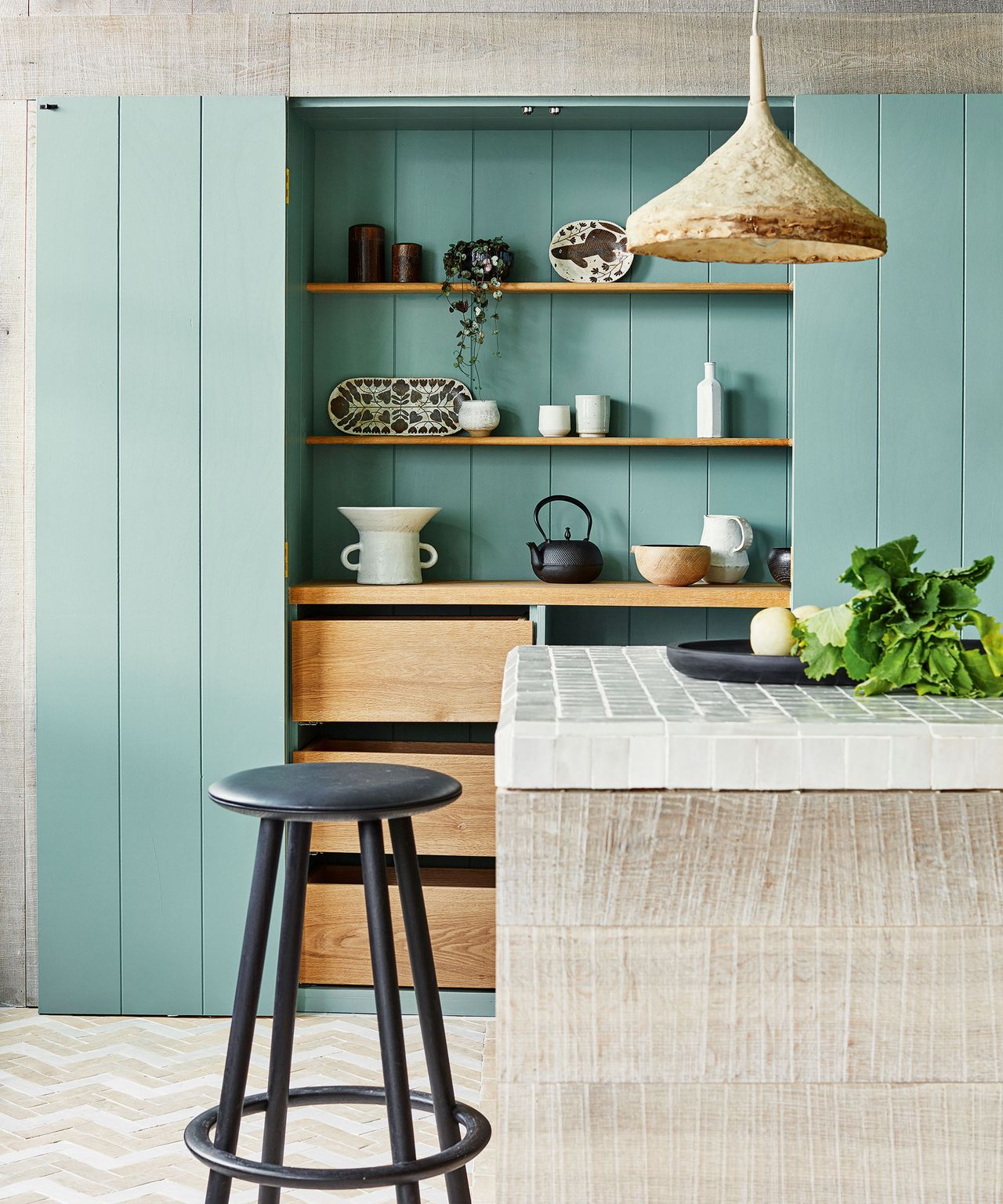 Tile countertop ideas for the bar area in your kitchen can create a tactile surface whilst allowing for you to be creative with shape, color and pattern.
'Usually found on the backsplash in a kitchen or for bathroom countertop ideas, tiles are also a great choice for kitchen countertops, creating an inviting textural element in a highly functional space,' says Jennifer Ebert, digital editor of Homes & Gardens.
In this kitchen, the small, off-white square tiles form a neat pattern and contrast beautifully with the wooden bar base.
What can I use for an island countertop?
There are many materials you can use for your island countertop. From natural materials like wood and stone, to more modern choices such as metal and laminate. 
Depending on your budget, the style of your space and how you want to use your kitchen island, you need to pick a material that is durable and able to withstand hard use, whether that's from cooking or entertaining. 
Hege Lundh states, 'how you choose to integrate an island into your scheme will have a profound effect not only on how you use your kitchen, but also to its overall appearance.'
Working out how you want to use your island is great place to start when considering material options. Will your island mainly be used for food prep and cooking, or will it be an area for conversation and socialization? 
Considering these factors, as well as if you want your countertop to make a statement or match the other worktops in your space, will help you come to a decision on what material is best for your kitchen.
Should island countertops match?
As explored in this article, the kitchen island is the perfect place to get creative and inject and element of contrast into your scheme. 
'Countertops do not have to match, using a mix of materials and colors can create a rich and varied design that make your kitchen space feel unique and personal to you' says Homes & Gardens' editor in chief Lucy Searle.
Matching countertops of course work wonderfully, but do not be afraid to mix things up when planning your island countertop ideas.