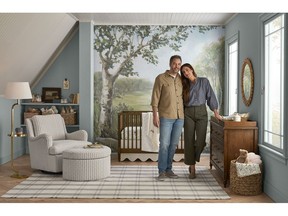 Article content
Co-Branded Collection Includes New Home Furnishings, Décor, and Textiles for Baby and Kids in Vintage-Inspired Styles
Article content
SAN FRANCISCO — Pottery Barn Kids, a portfolio brand of Williams-Sonoma, Inc. (NYSE: WSM), the world's largest digital-first, design-led and sustainable home retailer, announced today its debut children's home furnishings collaboration with husband-and-wife design duo, Chris and Julia Marcum of Chris Loves Julia. The new Chris Loves Julia collection for Pottery Barn Kids is the couple's first and only partnership in the children's home furnishings market and showcases their shared belief with Pottery Barn Kids that living spaces can be stylish yet comfortable.
Article content
Since 2009, Chris and Julia have been documenting their love of design, bringing their social followers along on adventures through home renovations, DIY projects and day-to-day living. Their namesake blog and Instagram handle, Chris Loves Julia, is a digital space that celebrates embracing home at every stage. Since the start of Chris Loves Julia, the couple has welcomed three daughters, captured their experiences of multiple cross-country moves, and shared countless design tips with their highly engaged audience.
Article content
The Chris Loves Julia collection for Pottery Barn Kids draws upon the couple's own experience as parents and the pieces they were drawn to when decorating their kids' spaces. The result is a collaboration of furniture, textiles and décor that combines Chris and Julia's love of dark tone woods and traditional silhouettes with the craftsmanship, quality, sustainability, and design expertise of Pottery Barn Kids.
"We admire the rapport and connection Chris and Julia have built with their engaged community, and we're thrilled to partner on a collection of quality, vintage-inspired products true to their aesthetic," said Jennifer Kellor, President, Pottery Barn Kids. "The collaboration was born out of our shared love for creating interiors that feel comfortable and welcoming."
Article content
This collaboration was thoughtfully crafted with function at its core, featuring furniture designed to save space or convert as a child grows, ensuring the pieces can be used for years to come. The wall art display doubles as meaningful décor that can showcase a child's art, favorite prints, or family heirlooms in a stylish frame. The reversible quilt and shams feature two designs that can be easily interchanged to update a bedroom's look and feel.
"This collection was designed with rich woods, nostalgic silhouettes, fresh patterns, and lots of character — with our daughters in mind! We wanted to design pieces that could grow with our kids: heirloom-quality furniture that would look just as sweet in a baby's room as it would in a kid's or teen's room," said Julia Marcum of Chris Loves Julia.
Article content
To learn more about the collection, visit www.potterybarnkids.com/chrislovesjulia. Join the conversation on social media with @potterybarnkids and @chrislovesjulia.
ABOUT POTTERY BARN KIDS
Introduced in 1999, Pottery Barn Kids offers exclusive home furnishings available online and in stores globally to create kid-friendly, eco-conscious, stylish, and innovative spaces. Pottery Barn Kids' mission is to bring the utmost in quality design, sustainability, and safety into every family's home. Products are rigorously tested to meet the highest child safety standards and are expertly crafted from the best materials to last beyond the childhood years. Pottery Barn Kids is a member of Williams-Sonoma, Inc. (NYSE:WSM) and participates in The Key Rewards, a free-to-join loyalty program that offers members exclusive benefits across the family of brands.
ABOUT CHRIS LOVES JULIA
Chris and Julia Marcum are the duo behind Chris Loves Julia — the home design platform that's all about loving where you live. Together, they work to uncover their home's potential through quick DIYs, major renovations, splurge-and-save design, and day-to-day family living.
WSM-PR
View source version on businesswire.com: https://www.businesswire.com/news/home/20230504005226/en/
Contacts
Molly Terrell
Public Relations, Pottery Barn Kids
[email protected]
Lauren Sanchez
Public Relations, Pottery Barn Kids
[email protected]