Interior designer Jamie Banfield will share home-design tips at the Vancouver Fall Home Show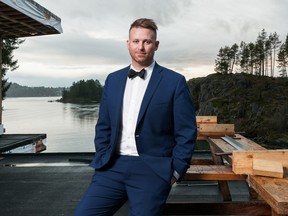 Reviews and recommendations are unbiased and products are independently selected. Postmedia may earn an affiliate commission from purchases made through links on this page.
Article content
When space is at a premium, apartment and condo dwellers' first instinct is often to go small when it comes to furniture.
But this isn't necessarily the best way to maximize limited space, says Jamie Banfield.
Article content
"What you've got to do is get fewer pieces but make sure they're more multifunctional. If you can think of multiple ways to use something in a small space, I think you're good to go."
Article content
Banfield, who runs a full-service award-winning residential and interior design team based in Port Moody, B.C., is one of this year's main stage guests at the Vancouver Fall Home Show. He'll be sharing tips on creating a kitchen.
When it comes to getting the most out of a small space, though, he has knowledge to share as well.
"Get a dining-room table that you can also work off of, and that's going to fit the space properly. Don't go condo-size; go with a size that will fit your lifestyle and function."
The same thing for other pieces.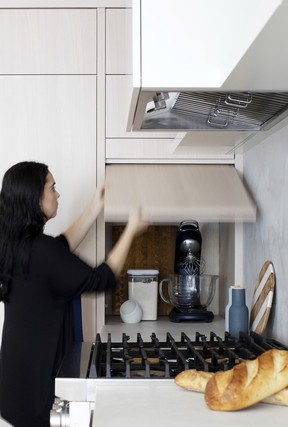 "Let's say you put in a little bigger sectional—one that fits properly, though—and one console and one chair and a coffee table. Even though they're a bit bigger than the condo-sized ones, they'll make the space feel more filled out, and you'll get the functionality."
He suggests acquiring furniture that can be used both indoors and outdoors.
"Our little chair in our living room is actually an outdoor chair. And then all our pillows in our house are indoor/outdoors. Out on the balcony, we have a sofa and one chair. But then, when we do dinner inside, those two accent chairs are inside. Same with our end tables. They're indoor and outdoor."
Article content
Even a stool can be put to different uses. "Maybe you have two stools for an island. But you get another stool that just has a flat top and no back for the guest bedroom as a nightstand and another that you can put a plant on. Then, when you have a bunch of people over, now you've got four stools."
He also suggests going the custom route for certain things, like cabinetry.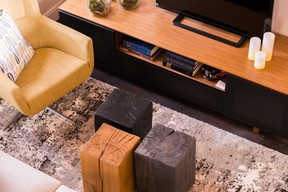 "By making upper cabinets in the kitchen three inches deeper, you can fit four wine glasses instead of three. It's not taking away a lot of space, but you get a little extra storage."
Julia Dilworth, business director at local design studio PlaidFox and a lifestyle writer, recommends splurging on a customized banquette for both functionality and comfort.
"This often looks like a booth-style chef's table you'd see at a restaurant," Dilworth wrote in an email. Another main stage presenter at the Vancouver Fall Home Show, she says she'll give "a practical primer on renovating."
Customized banquettes, she writes, "are awesome because the dining options in condos are often some combo of a cramped micro table and/or a kitchen island you'd never really sit at."
Article content
The banquette is not cheap—it can run from $3,000 to $10,000—"but it might be the best money you spend."
She also suggests measuring all your furniture.
"Smaller square footage requires maximizing every inch. Sometimes, items can feel too big in the space as well. A hulking sofa with big plush arms and a wide footprint could feel imposing or be the perfect soft hug at the end of the day—feel it out! Feel free to live with things in your space before you find them a new home."
To cut down on clutter, consider closed-storage media consoles. And don't waste the walls. They can be used for mounting lighting, storage, and the TV. "Even the ceiling can be real estate for drapery or hanging plants."
Finally, she recommends considering "view management."
"When you're sitting and looking at the living room or the entrance or your bedroom, does the view delight you? If it's not sparking Kondo-level joy, think about what you could edit that's in the way and adding something you absolutely love. People may want to go with less in a smaller space, but you still need rugs and soft surfaces underfoot, layered lighting, drapery, textiles and cushions, handy surfaces for putting down your tea, and some eye candy."
She adds, "We're all so careful and afraid to make a mistake in Vancouver! You can always pare back if you've gone too far. And if you need some visuals before taking the plunge, then learn how to use Photoshop or, better yet, shop somewhere with a great return policy."
The Vancouver Fall Home Show runs from September 28 to October 1 at the Vancouver Convention Centre West.
Vancouver Fall Home Show: Find everything you need to know before you start your next big project

Vancouver Fall Home Show: Bryan Baeumler on the challenges of building an island resort